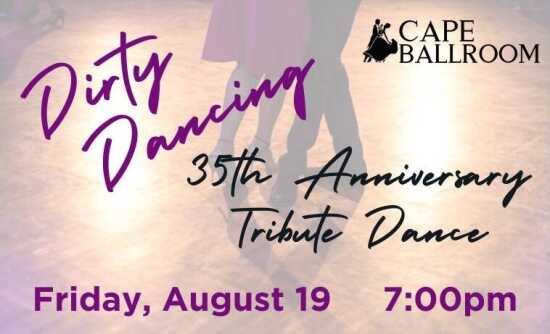 "Dirty Dancing" 35th Anniversary Tribute Dance at Cape Ballroom
Friday, August 19, 2022, 7:00 pm - 9:00 pm
Cape Ballroom at the American Legion
It's been 35 years since Johnny (Patrick Swayze) and Baby (Jennifer Grey) danced their way into our hearts, in "Dirty Dancing". In honor of the anniversary, Cape Ballroom will hold a tribute dance, featuring songs from the movie, on Friday, August 19, at 7:00pm. No, we won't be dancing "dirty"; but you will have the Time Of Your Life!
Doors open at 6:45pm. The evening will begin at 7:00pm, with a 30-minute lesson in Cha Cha, followed by ballroom dancing to the movie's iconic songs until 9:00pm. Electric Slide and Cupid Shuffle line dances included.
Just $5/person at the door.
Dance Partners Required! Participants must arrange their own dance partner for the lesson and dance.
No smoking. No alcohol. Light refreshments will be served.
Cape Ballroom Friday Night Dances are held 7-9 p.m. at the American Legion Hall, 2731 Thomas Drive, Cape Girardeau, MO 63701.
Questions? Facebook message, text/call (480) 857-7286, or email dan@capeballroom.com.
Map
Cape Ballroom at the American Legion
2731 Thomas Drive, Cape Girardeau, MO 63701