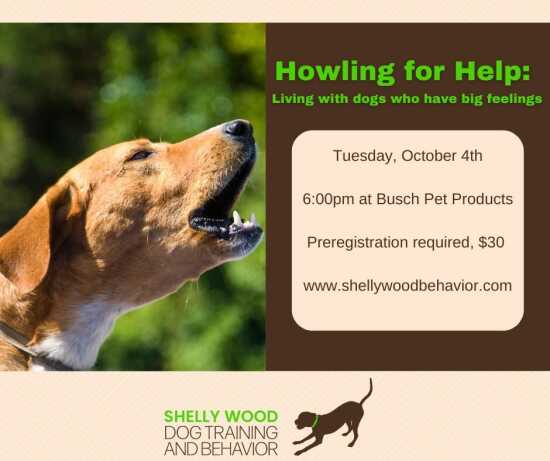 Past:

Howling for Help: Living with dogs who have big feelings
Busch Pet Products
Are you embarrassed about your dog's behavior on walks? Or even worse, does the way your dog behaves on walks scare you sometimes? Does your dog lunge, bark, pant, growl, or otherwise seem overly excited by other dogs and people on your walks? Have you been told that your dog is "leash reactive", "reactive" or maybe even "aggressive"? Have you ever found yourself saying loudly "he's friendly!" as your dog pulled you against your will up to another dog he was so excited to meet? Join me in "Howling for Help: Living and working with dogs who have big feelings" to learn about things that might contribute to these types of behaviors as well as some practical tips to begin addressing them.
We will cover how the environment, genetics, and your dog's learning history can contribute to challenges like these. Each situation is unique and there is no cookie cutter solution to "fix" these types of problems so you will not walk away from this event with a specific, behavior change plan. However, you will learn about some general behavior change strategies and you will walk away with some practical ideas for things you can do right now that should help you and your dog better manage the situations that are currently causing you both anxiety and/or frustration.
This seminar is for humans only. Leave your pups resting at home, so you can soak up all the learning! This seminar will be part of a monthly seminar series on a variety of dog (and cat!) related topics to be offered at Busch Pet Products & Care. Preregistration is required and limited space is available. To register or for more information, visit visit www.shellywoodbehavior.com/group-classes , scroll down to the bottom of the page and select "Howling for Help" from the list of available services to grab your spot!
Past Dates & Times
Tuesday, October 4, 2022, 6:00 pm - 7:00 pm

Map
Busch Pet Products
2031 Cape LaCroix Rd. , Cape Girardeau, MO