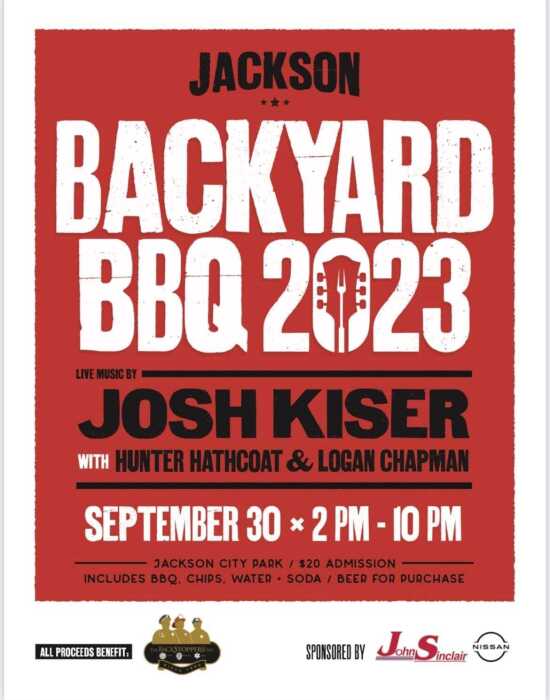 Jackson Backyard BBQ
Saturday, September 30, 2023, 2:00 pm - 10:00 pm
Jackson City Park
What is the Jackson Backyard BBQ?
Jackson Backyard BBQ 2023 is a public, community event for all ages, with a great cause! The BBQ event is held in the Jackson City Park, Parkview Street, Jackson, MO.
A $20 entry ticket buys a pulled pork sandwich, chips, water, and soft drinks… PLUS free samples of bbq from this year's 18 competitors! Wib's Drive-In, Alex Elfrink State Farm Agent, and Southeast Missouri Cattlemen's Association will be there serving you with food and drinks. Beer will be available for purchase.
This year, we have live entertainment by Hunter Hathcoat, Logan Chapman, and Nashville recording artist,Josh Kiser. Ken's Ace Hardware will also be sponsoring demonstrations from STIHL and Ace Hardware's BBQ Expert Chef Jason Morse!
Don't miss our popular raffles for great prizes including items from Pit Boss Grills, Pit Barrel Cooker Co., flat top griddles, fish fryers, liquor baskets, and many custom items!
This event is family friendly and will have vendors like Simply Swirled - Frozen Yogurt & More, Lemonade House Grille Mobile, snow cones from Serve, Essner's Custom Butchering, and Smokin Brothers, Inc. Kids 12 years of age and under are FREE!
Proceeds from the event go to The BackStoppers Inc., a nonprofit organization that supports families of our fallen first responders and those who are catastrophically injured in the line of duty. Last year we were able to present a check for $20,000 to support their mission.
Map
Jackson City Park
Parkview Street, Jackson, Missouri