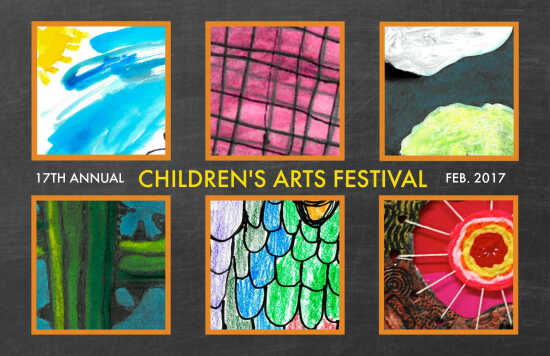 Past:

17th Annual Children's Arts Festival
Arts Council of Southeast Missouri
17th ANNUAL CHILDREN'S ARTS FESTIVAL AT THE ARTS COUNCIL
CAPE GIRARDEAU, MO—Friday, February 3rd, from 4 to 8 p.m., the Southeast Missouri Arts Council invites you to attend a reception for the 17th Annual Children's Arts Festival. This much-loved exhibit, which features visual art pieces and poetry by children from 27 regional schools, will be on display until February 25th.
Introduced in the year 2000, the Children's Arts Festival was developed as a way to showcase what local arts teachers, and their students, are doing in their classrooms.
The show is juried, and the top eight entries in each age group, from 3rd to 8th grade, are featured in a booklet distributed at the event. The student poetry section will also be continued in the 17th Annual Children's Arts Festival. Students were prompted to write a poem about "Why I Love _," a fan poem about a favorite celebrity, tv or movie personality, musician, or someone they know personally. One winner will be selected from each grade level for this category as well.
Cookies will be provided for guests, courtesy of Chick-Fil-A, and milk and juice boxes will be available, thanks to McDonalds.
Thank you to the local sponsors of this event: Walmart, Southeast Health, Cape Radiology Group, Alliance Bank, Horst Pharmacy, and Wood and Huston Bank.
Join other arts patrons and supporters in viewing the 2017 Children's Arts Festival at the Arts Council of Southeast Missouri, located at 16B North Spanish Street in Cape Girardeau, MO. The gallery is also open Tuesday- Saturday, from 10am to 4pm.
Past Dates & Times
Friday, Feb 3, 2017, 4:00 pm - 8:00 pm
Saturday, Feb 4, 2017, 10:00 am - 4:00 pm
Tuesday, Feb 7, 2017, 10:00 am - 4:00 pm
Wednesday, Feb 8, 2017, 10:00 am - 4:00 pm
Thursday, Feb 9, 2017, 10:00 am - 4:00 pm
Friday, Feb 10, 2017, 10:00 am - 4:00 pm
Saturday, Feb 11, 2017, 10:00 am - 4:00 pm
Tuesday, Feb 14, 2017, 10:00 am - 4:00 pm
Wednesday, Feb 15, 2017, 10:00 am - 4:00 pm
Thursday, Feb 16, 2017, 10:00 am - 4:00 pm
Friday, Feb 17, 2017, 10:00 am - 4:00 pm
Saturday, Feb 18, 2017, 10:00 am - 4:00 pm
Tuesday, Feb 21, 2017, 10:00 am - 4:00 pm
Wednesday, Feb 22, 2017, 10:00 am - 4:00 pm
Thursday, Feb 23, 2017, 10:00 am - 4:00 pm
Friday, Feb 24, 2017, 10:00 am - 4:00 pm

Map
Arts Council of Southeast Missouri
16 N. Spanish St., Cape Girardeau, MO