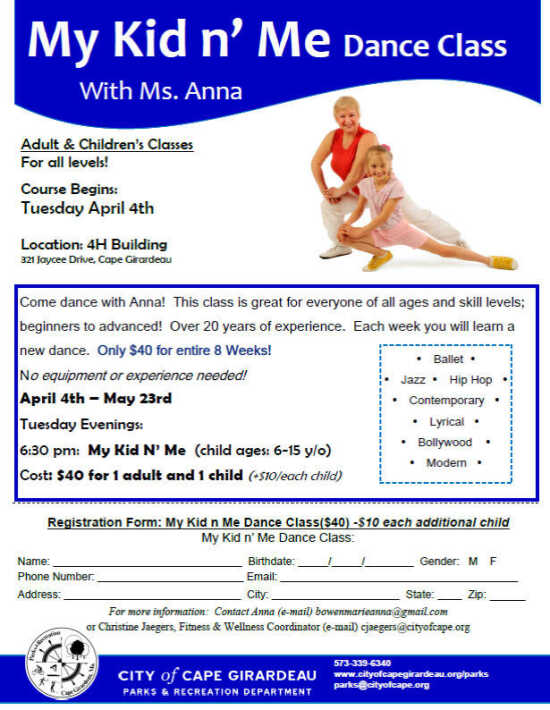 Past:

My Kid n' Me Dance Class
Osage Centre
This dance workout class is not only for your child but you can join in too! (Not a dancer? Don't worry: you are not required to join in!) Children can register without parent.
You and your child will learn all types of fun styles of dancing and ways to be active together as a family.
Great for all levels!
Dance in shoes or socks — no extra equipment needed!
Check out the Facebook link: Osage Centre-Cape Girardeau
https://www.facebook.com/events/1708208162805361/
Website: www.cityofcape.org/fitness
Past Dates & Times
Tuesday, Apr 4, 2017, 6:30 pm - 7:30 pm
Tuesday, Apr 11, 2017, 6:30 pm - 7:30 pm
Tuesday, Apr 18, 2017, 6:30 pm - 7:30 pm
Tuesday, Apr 25, 2017, 6:30 pm - 7:30 pm
Tuesday, May 2, 2017, 6:30 pm - 7:30 pm
Tuesday, May 9, 2017, 6:30 pm - 6:30 pm
Tuesday, May 16, 2017, 6:30 pm - 7:30 pm
Tuesday, May 23, 2017, 6:30 pm - 7:30 pm

Map
Osage Centre
1625 n kingshighway Cape Girardeau MO 63701