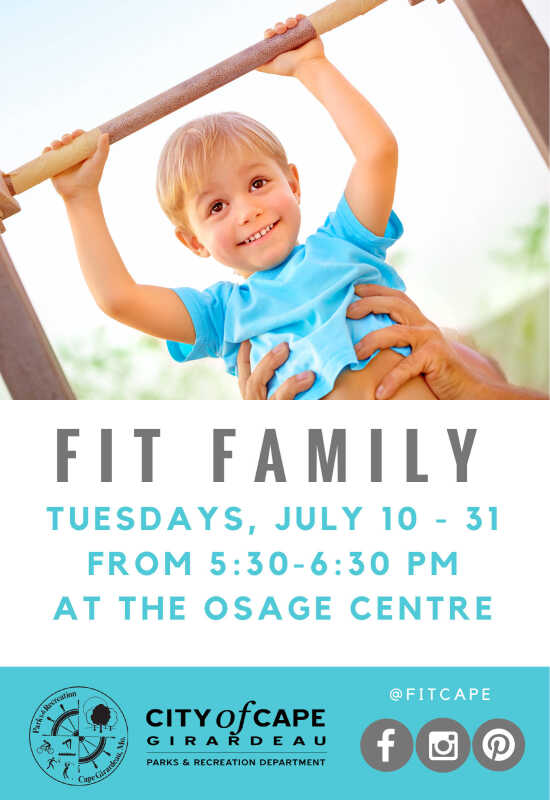 Past:

Fit Family
Osage Centre
This fitness workout class is not only for your child but you can join in too!
You and your child will and take part in all sort of fun fitness activities and ways to be active together as a family.
Great for all levels! Lets make Fitness FUN!
No extra equipment needed!
Geared towards ages: 4-11 y/o
Website: www.cityofcape.org/fitness
Past Dates & Times
Tuesday, Apr 4, 2017, 5:30 pm - 6:30 pm
Tuesday, Apr 11, 2017, 5:30 pm - 6:30 pm
Tuesday, Apr 18, 2017, 5:30 pm - 6:30 pm
Tuesday, Apr 25, 2017, 5:30 pm - 6:30 pm
Tuesday, May 2, 2017, 5:30 pm - 6:30 pm
Tuesday, May 9, 2017, 5:30 pm - 6:30 pm
Tuesday, May 16, 2017, 5:30 pm - 6:30 pm
Tuesday, May 23, 2017, 5:30 pm - 6:30 pm
Tuesday, Jul 10, 2018, 5:30 pm - 6:30 pm
Tuesday, Jul 17, 2018, 5:30 pm - 6:30 pm
Tuesday, Jul 24, 2018, 5:30 pm - 6:30 pm
Tuesday, Jul 31, 2018, 5:30 pm - 6:30 pm

Map
Osage Centre
1625 N Kingshighway Cape Girardeau, MO 63701