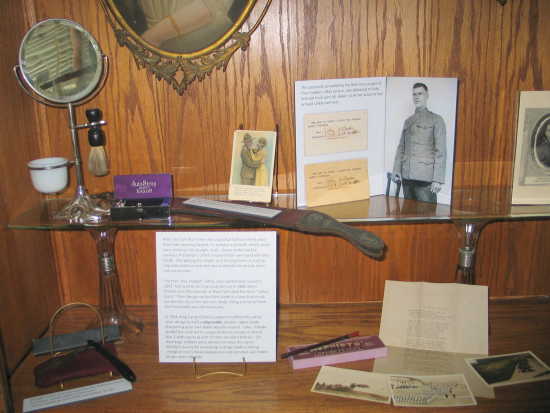 Past:

World War I Exhibit Closes December 29
Bollinger County Museum of Natural History
Explore how WWI affected the lives of small town Americans on the home front and overseas in our World War I exhibit.
Included in the exhibit are uniforms, photos, personal items, stories telling the World War I experiences of Samuel A. Baker, and other relevant historical memorabilia.
Museum hours are: Thursday, Friday, and Saturday from 12:00 (noon)- 4:30 p.m.
Last date to view this exhibit is December 29, 2018.
Admission: Adults $5, 17 years and under $2
For more information call (573) 238-1174 or email bcmnh@sbcglobal.net
Past Dates & Times
Saturday, April 22, 2017, 10:00 am - 5:00 pm
Sunday, April 23, 2017, Noon - 4:30 pm
Thursday, April 27, 2017, Noon - 4:30 pm
Friday, April 28, 2017, Noon - 4:30 pm
Saturday, April 29, 2017, Noon - 4:30 pm
Thursday, May 4, 2017, Noon - 4:30 pm
Friday, May 5, 2017, Noon - 4:30 pm
Saturday, May 6, 2017, Noon - 4:30 pm
Sunday, May 7, 2017, Noon - 4:30 pm
Thursday, May 11, 2017, Noon - 4:30 pm
Friday, May 12, 2017, Noon - 4:30 pm
Saturday, May 13, 2017, Noon - 4:30 pm
Thursday, May 18, 2017, Noon - 4:30 pm
Friday, May 19, 2017, Noon - 4:30 pm
Saturday, May 20, 2017, Noon - 4:30 pm
Thursday, May 25, 2017, Noon - 4:30 pm
Friday, May 26, 2017, Noon - 4:30 pm
Saturday, May 27, 2017, Noon - 4:30 pm
Thursday, June 1, 2017, Noon - 4:30 pm
Friday, June 2, 2017, Noon - 4:30 pm
Saturday, June 3, 2017, Noon - 4:30 pm
Sunday, June 4, 2017, Noon - 4:30 pm
Thursday, June 8, 2017, Noon - 4:30 pm
Friday, June 9, 2017, Noon - 4:30 pm
Saturday, June 10, 2017, Noon - 4:30 pm
Thursday, June 15, 2017, Noon - 4:30 pm
Friday, June 16, 2017, Noon - 4:30 pm
Saturday, June 17, 2017, Noon - 4:30 pm
Thursday, June 22, 2017, Noon - 4:30 pm
Friday, June 23, 2017, Noon - 4:30 pm
Saturday, June 24, 2017, Noon - 4:30 pm
Thursday, June 29, 2017, Noon - 4:30 pm
Friday, June 30, 2017, Noon - 4:30 pm
Saturday, July 1, 2017, Noon - 4:30 pm
Sunday, July 2, 2017, Noon - 4:30 pm
Thursday, July 6, 2017, Noon - 4:30 pm
Friday, July 7, 2017, Noon - 4:30 pm
Saturday, July 8, 2017, Noon - 4:30 pm
Thursday, July 13, 2017, Noon - 4:30 pm
Friday, July 14, 2017, Noon - 4:30 pm
Saturday, July 15, 2017, Noon - 4:30 pm
Thursday, July 20, 2017, Noon - 4:30 pm
Friday, July 21, 2017, Noon - 4:30 pm
Saturday, July 22, 2017, Noon - 4:30 pm
Thursday, July 27, 2017, Noon - 4:30 pm
Friday, July 28, 2017, Noon - 4:30 pm
Saturday, July 29, 2017, Noon - 4:30 pm
Thursday, August 3, 2017, Noon - 4:30 pm
Friday, August 4, 2017, Noon - 4:30 pm
Saturday, August 5, 2017, Noon - 4:30 pm
Sunday, August 6, 2017, Noon - 4:30 pm
Thursday, August 10, 2017, Noon - 4:30 pm
Friday, August 11, 2017, Noon - 4:30 pm
Saturday, August 12, 2017, Noon - 4:30 pm
Thursday, August 17, 2017, Noon - 4:30 pm
Friday, August 18, 2017, Noon - 4:30 pm
Saturday, August 19, 2017, Noon - 4:30 pm
Thursday, August 24, 2017, Noon - 4:30 pm
Friday, August 25, 2017, Noon - 4:30 pm
Saturday, August 26, 2017, Noon - 4:30 pm
Thursday, August 31, 2017, Noon - 4:30 pm
Friday, September 1, 2017, Noon - 4:30 pm
Saturday, September 2, 2017, Noon - 4:30 pm
Sunday, September 3, 2017, Noon - 4:30 pm
Thursday, September 7, 2017, Noon - 4:30 pm
Friday, September 8, 2017, Noon - 4:30 pm
Saturday, September 9, 2017, Noon - 4:30 pm
Thursday, September 14, 2017, Noon - 4:30 pm
Friday, September 15, 2017, Noon - 4:30 pm
Saturday, September 16, 2017, Noon - 4:30 pm
Thursday, September 21, 2017, Noon - 4:30 pm
Friday, September 22, 2017, Noon - 4:30 pm
Saturday, September 23, 2017, Noon - 4:30 pm
Sunday, September 24, 2017, Noon - 4:30 pm
Thursday, September 28, 2017, Noon - 4:30 pm
Friday, September 29, 2017, Noon - 4:30 pm
Saturday, September 30, 2017, Noon - 4:30 pm
Sunday, October 1, 2017, Noon - 4:30 pm
Thursday, October 5, 2017, Noon - 4:30 pm
Friday, October 6, 2017, Noon - 4:30 pm
Saturday, October 7, 2017, Noon - 4:30 pm
Sunday, October 8, 2017, Noon - 4:30 pm
Thursday, October 12, 2017, Noon - 4:30 pm
Friday, October 13, 2017, Noon - 4:30 pm
Saturday, October 14, 2017, Noon - 4:30 pm
Thursday, October 19, 2017, Noon - 4:30 pm
Friday, October 20, 2017, Noon - 4:30 pm
Saturday, October 21, 2017, Noon - 4:30 pm
Thursday, October 26, 2017, Noon - 4:30 pm
Friday, October 27, 2017, Noon - 4:30 pm
Saturday, October 28, 2017, Noon - 4:30 pm
Thursday, November 2, 2017, Noon - 4:30 pm
Friday, November 3, 2017, Noon - 4:30 pm
Saturday, November 4, 2017, Noon - 4:30 pm
Sunday, November 5, 2017, Noon - 4:30 pm
Thursday, November 9, 2017, Noon - 4:30 pm
Friday, November 10, 2017, Noon - 4:30 pm
Saturday, November 11, 2017, Noon - 4:30 pm
Thursday, November 16, 2017, Noon - 4:30 pm
Friday, November 17, 2017, Noon - 4:30 pm
Saturday, November 18, 2017, Noon - 4:30 pm
Friday, November 24, 2017, Noon - 4:30 pm
Saturday, November 25, 2017, Noon - 4:30 pm
Thursday, November 30, 2017, Noon - 4:30 pm
Friday, December 1, 2017, Noon - 4:30 pm
Saturday, December 2, 2017, Noon - 4:30 pm
Sunday, December 3, 2017, Noon - 4:30 pm
Thursday, December 7, 2017, Noon - 4:30 pm
Friday, December 8, 2017, Noon - 4:30 pm
Saturday, December 9, 2017, Noon - 4:30 pm
Thursday, December 14, 2017, Noon - 4:30 pm
Friday, December 15, 2017, Noon - 4:30 pm
Saturday, December 16, 2017, Noon - 4:30 pm
Thursday, December 21, 2017, Noon - 4:30 pm
Friday, December 22, 2017, Noon - 4:30 pm
Saturday, December 23, 2017, Noon - 4:30 pm
Thursday, December 28, 2017, Noon - 4:30 pm
Friday, December 29, 2017, Noon - 4:30 pm
Saturday, December 30, 2017, Noon - 4:30 pm
Thursday, January 4, 2018, Noon - 4:30 pm
Friday, January 5, 2018, Noon - 4:30 pm
Saturday, January 6, 2018, Noon - 4:30 pm
Sunday, January 7, 2018, Noon - 4:30 pm
Saturday, April 28, 2018, Noon - 4:30 pm
Sunday, April 29, 2018, Noon - 4:30 pm
Thursday, May 3, 2018, Noon - 4:30 pm
Friday, May 4, 2018, Noon - 4:30 pm
Saturday, May 5, 2018, Noon - 4:30 pm
Sunday, May 6, 2018, Noon - 4:30 pm
Thursday, May 10, 2018, Noon - 4:30 pm
Friday, May 11, 2018, Noon - 4:30 pm
Saturday, May 12, 2018, Noon - 4:30 pm
Thursday, May 17, 2018, Noon - 4:30 pm
Friday, May 18, 2018, Noon - 4:30 pm
Saturday, May 19, 2018, Noon - 4:30 pm
Thursday, May 24, 2018, Noon - 4:30 pm
Friday, May 25, 2018, Noon - 4:30 pm
Saturday, May 26, 2018, Noon - 4:30 pm
Thursday, May 31, 2018, Noon - 4:30 pm
Friday, June 1, 2018, Noon - 4:30 pm
Saturday, June 2, 2018, Noon - 4:30 pm
Sunday, June 3, 2018, Noon - 4:30 pm
Thursday, June 7, 2018, Noon - 4:30 pm
Friday, June 8, 2018, Noon - 4:30 pm
Saturday, June 9, 2018, Noon - 4:30 pm
Thursday, June 14, 2018, Noon - 4:30 pm
Friday, June 15, 2018, Noon - 4:30 pm
Saturday, June 16, 2018, Noon - 4:30 pm
Thursday, June 21, 2018, Noon - 4:30 pm
Friday, June 22, 2018, Noon - 4:30 pm
Saturday, June 23, 2018, Noon - 4:30 pm
Thursday, June 28, 2018, Noon - 4:30 pm
Friday, June 29, 2018, Noon - 4:30 pm
Saturday, June 30, 2018, Noon - 4:30 pm
Sunday, July 1, 2018, Noon - 4:30 pm
Thursday, July 5, 2018, Noon - 4:30 pm
Friday, July 6, 2018, Noon - 4:30 pm
Saturday, July 7, 2018, Noon - 4:30 pm
Thursday, July 12, 2018, Noon - 4:30 pm
Friday, July 13, 2018, Noon - 4:30 pm
Saturday, July 14, 2018, Noon - 4:30 pm
Thursday, July 19, 2018, Noon - 4:30 pm
Friday, July 20, 2018, Noon - 4:30 pm
Saturday, July 21, 2018, Noon - 4:30 pm
Thursday, July 26, 2018, Noon - 4:30 pm
Friday, July 27, 2018, Noon - 4:30 pm
Saturday, July 28, 2018, Noon - 4:30 pm
Thursday, August 2, 2018, Noon - 4:30 pm
Friday, August 3, 2018, Noon - 4:30 pm
Saturday, August 4, 2018, Noon - 4:30 pm
Sunday, August 5, 2018, Noon - 4:30 pm
Thursday, August 9, 2018, Noon - 4:30 pm
Friday, August 10, 2018, Noon - 4:30 pm
Saturday, August 11, 2018, Noon - 4:30 pm
Thursday, August 23, 2018, Noon - 4:30 pm
Friday, August 24, 2018, Noon - 4:30 pm
Saturday, August 25, 2018, Noon - 4:30 pm
Thursday, August 30, 2018, Noon - 4:30 pm
Friday, August 31, 2018, Noon - 4:30 pm
Saturday, September 1, 2018, Noon - 4:30 pm
Sunday, September 2, 2018, Noon - 4:30 pm
Thursday, September 6, 2018, Noon - 4:30 pm
Friday, September 7, 2018, Noon - 4:30 pm
Saturday, September 8, 2018, Noon - 4:30 pm
Thursday, September 13, 2018, Noon - 4:30 pm
Friday, September 14, 2018, Noon - 4:30 pm
Saturday, September 15, 2018, Noon - 4:30 pm
Thursday, September 20, 2018, Noon - 4:30 pm
Friday, September 21, 2018, Noon - 4:30 pm
Saturday, September 22, 2018, Noon - 4:30 pm
Thursday, September 27, 2018, Noon - 4:30 pm
Friday, September 28, 2018, Noon - 4:30 pm
Saturday, September 29, 2018, Noon - 4:30 pm
Sunday, September 30, 2018, Noon - 4:30 pm
Thursday, October 4, 2018, Noon - 4:30 pm
Friday, October 5, 2018, Noon - 4:30 pm
Saturday, October 6, 2018, Noon - 4:30 pm
Sunday, October 7, 2018, Noon - 4:30 pm
Thursday, October 11, 2018, Noon - 4:30 pm
Friday, October 12, 2018, Noon - 4:30 pm
Saturday, October 13, 2018, Noon - 4:30 pm
Thursday, October 18, 2018, Noon - 4:30 pm
Friday, October 19, 2018, Noon - 4:30 pm
Saturday, October 20, 2018, Noon - 4:30 pm
Thursday, October 25, 2018, Noon - 4:30 pm
Friday, October 26, 2018, Noon - 4:30 pm
Saturday, October 27, 2018, Noon - 4:30 pm
Thursday, November 1, 2018, Noon - 4:30 pm
Friday, November 2, 2018, Noon - 4:30 pm
Saturday, November 3, 2018, Noon - 4:30 pm
Sunday, November 4, 2018, Noon - 4:30 pm
Thursday, November 8, 2018, Noon - 4:30 pm
Friday, November 9, 2018, Noon - 4:30 pm
Saturday, November 10, 2018, Noon - 4:30 pm
Thursday, November 15, 2018, Noon - 4:30 pm
Friday, November 16, 2018, Noon - 4:30 pm
Saturday, November 17, 2018, Noon - 4:30 pm
Friday, November 23, 2018, Noon - 4:30 pm
Saturday, November 24, 2018, Noon - 4:30 pm
Thursday, November 29, 2018, Noon - 4:30 pm
Friday, November 30, 2018, Noon - 4:30 pm
Saturday, December 1, 2018, Noon - 4:30 pm
Sunday, December 2, 2018, Noon - 4:30 pm
Thursday, December 6, 2018, Noon - 4:30 pm
Friday, December 7, 2018, Noon - 4:30 pm
Saturday, December 8, 2018, Noon - 4:30 pm
Thursday, December 13, 2018, Noon - 4:30 pm
Friday, December 14, 2018, Noon - 4:30 pm
Saturday, December 15, 2018, Noon - 4:30 pm
Thursday, December 20, 2018, Noon - 4:30 pm
Friday, December 21, 2018, Noon - 4:30 pm
Saturday, December 22, 2018, Noon - 4:30 pm
Thursday, December 27, 2018, Noon - 4:30 pm
Friday, December 28, 2018, Noon - 4:30 pm
Saturday, December 29, 2018, Noon - 4:30 pm

Map
Bollinger County Museum of Natural History
207 Mayfield Dr., Marble Hill, MO