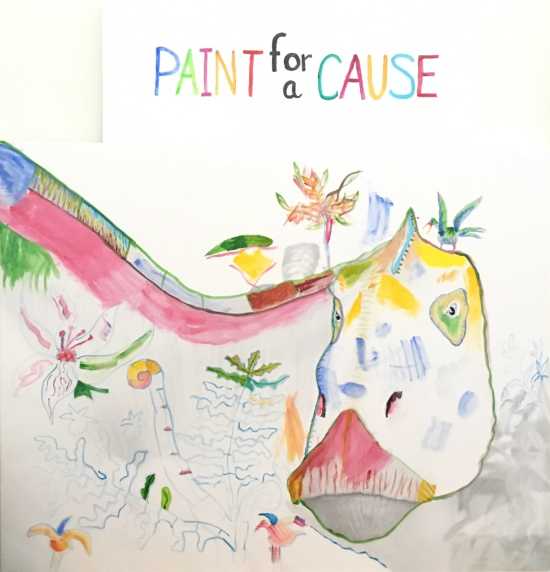 Past:

Paint for a Cause
Bollinger County Museum of Natural History
Paint for a Cause goes to the Bollinger County Museum of Natural History in Marble Hill. For a $1 donation, any visitor of any age who visits the Museum is welcome to paint for a minute or so. We want as many people possible to participate. All donations plus the completed painting will be given to the Museum.
Local artists Aaron Horrell and Barb Bailey will assist visitors add their brush strokes in this unique fund-raising event.
It's easy and fun. Come be an artist for a minute!
From now until April 27, visitors to the Painted Wren Art Gallery can paint for a cause on this painting. After that date, we will have a new Paint for a Cause. Our hours are Tuesday through Saturday, 1 - 6 p.m. at 223 South Plaza Way in Cape Girardeau.
Contact
Phone: (573) 579-1000/ (573) 837-9514
Past Dates & Times
Saturday, Jun 10, 2017, 1:00 pm
Tuesday, Jun 13, 2017, 1:00 pm - 6:00 pm
Wednesday, Jun 14, 2017, 1:00 pm - 6:00 pm
Thursday, Jun 15, 2017, 1:00 pm - 6:00 pm
Friday, Jun 16, 2017, 1:00 pm - 6:00 pm
Saturday, Jun 17, 2017, 1:00 pm - 6:00 pm
Tuesday, Jun 20, 2017, 1:00 pm - 6:00 pm
Wednesday, Jun 21, 2017, 1:00 pm - 6:00 pm
Thursday, Jun 22, 2017, 1:00 pm - 6:00 pm
Friday, Jun 23, 2017, 1:00 pm - 6:00 pm
Saturday, Jun 24, 2017, 1:00 pm - 6:00 pm
Tuesday, Jun 27, 2017, 1:00 pm - 6:00 pm
Wednesday, Jun 28, 2017, 1:00 pm - 6:00 pm
Thursday, Jun 29, 2017, 1:00 pm - 6:00 pm
Friday, Jun 30, 2017, 1:00 pm - 6:00 pm
Saturday, Jul 1, 2017, 1:00 pm - 6:00 pm
Tuesday, Jul 4, 2017, 1:00 pm - 6:00 pm
Wednesday, Jul 5, 2017, 1:00 pm - 6:00 pm
Thursday, Jul 6, 2017, 1:00 pm - 6:00 pm
Friday, Jul 7, 2017, 1:00 pm - 6:00 pm
Saturday, Jul 8, 2017, 1:00 pm - 6:00 pm
Tuesday, Jul 11, 2017, 1:00 pm - 6:00 pm
Wednesday, Jul 12, 2017, 1:00 pm - 6:00 pm
Thursday, Jul 13, 2017, 1:00 pm - 6:00 pm
Friday, Jul 14, 2017, 1:00 pm - 6:00 pm
Saturday, Jul 15, 2017, 1:00 pm - 6:00 pm
Tuesday, Jul 18, 2017, 1:00 pm - 6:00 pm
Wednesday, Jul 19, 2017, 1:00 pm - 6:00 pm
Thursday, Jul 20, 2017, 1:00 pm - 6:00 pm
Friday, Jul 21, 2017, 1:00 pm - 6:00 pm
Saturday, Jul 22, 2017, 1:00 pm - 6:00 pm
Tuesday, Jul 25, 2017, 1:00 pm - 6:00 pm
Wednesday, Jul 26, 2017, 1:00 pm - 6:00 pm
Thursday, Jul 27, 2017, 1:00 pm - 6:00 pm
Friday, Jul 28, 2017, 1:00 pm - 6:00 pm
Saturday, Jul 29, 2017, 1:00 pm - 6:00 pm
Tuesday, Aug 1, 2017, 1:00 pm - 6:00 pm
Wednesday, Aug 2, 2017, 1:00 pm - 6:00 pm
Thursday, Aug 3, 2017, 1:00 pm - 6:00 pm
Friday, Aug 4, 2017, 1:00 pm - 6:00 pm
Saturday, Aug 5, 2017, 1:00 pm - 6:00 pm
Tuesday, Aug 8, 2017, 1:00 pm - 6:00 pm
Wednesday, Aug 9, 2017, 1:00 pm - 6:00 pm
Thursday, Aug 10, 2017, 1:00 pm - 6:00 pm
Friday, Aug 11, 2017, 1:00 pm - 6:00 pm
Saturday, Aug 12, 2017, 1:00 pm - 6:00 pm
Tuesday, Aug 15, 2017, 1:00 pm - 6:00 pm
Wednesday, Aug 16, 2017, 1:00 pm - 6:00 pm
Thursday, Aug 17, 2017, 1:00 pm - 6:00 pm
Friday, Aug 18, 2017, 1:00 pm - 6:00 pm
Saturday, Aug 19, 2017, 1:00 pm - 6:00 pm
Tuesday, Aug 22, 2017, 1:00 pm - 6:00 pm
Wednesday, Aug 23, 2017, 1:00 pm - 6:00 pm
Thursday, Aug 24, 2017, 1:00 pm - 6:00 pm
Friday, Aug 25, 2017, 1:00 pm - 6:00 pm
Saturday, Aug 26, 2017, 1:00 pm - 6:00 pm
Tuesday, Aug 29, 2017, 1:00 pm - 6:00 pm
Wednesday, Aug 30, 2017, 1:00 pm - 6:00 pm
Thursday, Aug 31, 2017, 1:00 pm - 6:00 pm
Friday, Sep 22, 2017, 1:00 pm
Tuesday, Sep 26, 2017, 1:00 pm - 6:00 pm
Wednesday, Sep 27, 2017, 1:00 pm - 6:00 pm
Thursday, Sep 28, 2017, 1:00 pm - 6:00 pm
Friday, Sep 29, 2017, 1:00 pm - 6:00 pm
Saturday, Sep 30, 2017, 1:00 pm - 6:00 pm
Tuesday, Oct 3, 2017, 1:00 pm - 6:00 pm
Wednesday, Oct 4, 2017, 1:00 pm - 6:00 pm
Thursday, Oct 5, 2017, 1:00 pm - 6:00 pm
Friday, Oct 6, 2017, 1:00 pm - 6:00 pm
Saturday, Oct 7, 2017, 1:00 pm - 6:00 pm
Tuesday, Oct 10, 2017, 1:00 pm - 6:00 pm
Wednesday, Oct 11, 2017, 1:00 pm - 6:00 pm
Thursday, Oct 12, 2017, 1:00 pm - 6:00 pm
Friday, Oct 13, 2017, 1:00 pm - 6:00 pm
Saturday, Oct 14, 2017, 1:00 pm - 6:00 pm
Tuesday, Oct 17, 2017, 1:00 pm - 6:00 pm
Wednesday, Oct 18, 2017, 1:00 pm - 6:00 pm
Thursday, Oct 19, 2017, 1:00 pm - 6:00 pm
Friday, Oct 20, 2017, 1:00 pm - 6:00 pm
Saturday, Oct 21, 2017, 1:00 pm - 6:00 pm
Tuesday, Oct 24, 2017, 1:00 pm - 6:00 pm
Wednesday, Oct 25, 2017, 1:00 pm - 6:00 pm
Thursday, Oct 26, 2017, 1:00 pm - 6:00 pm
Friday, Oct 27, 2017, 1:00 pm - 6:00 pm
Saturday, Oct 28, 2017, 1:00 pm - 6:00 pm
Tuesday, Oct 31, 2017, 1:00 pm - 6:00 pm
Wednesday, Nov 1, 2017, 1:00 pm - 6:00 pm
Thursday, Nov 2, 2017, 1:00 pm - 6:00 pm
Friday, Nov 3, 2017, 1:00 pm - 6:00 pm
Saturday, Nov 4, 2017, 1:00 pm - 6:00 pm
Tuesday, Nov 7, 2017, 1:00 pm - 6:00 pm
Wednesday, Nov 8, 2017, 1:00 pm - 6:00 pm
Thursday, Nov 9, 2017, 1:00 pm - 6:00 pm
Friday, Nov 10, 2017, 1:00 pm - 6:00 pm
Saturday, Nov 11, 2017, 1:00 pm - 6:00 pm
Tuesday, Nov 14, 2017, 1:00 pm - 6:00 pm
Wednesday, Nov 15, 2017, 1:00 pm - 6:00 pm
Thursday, Nov 16, 2017, 1:00 pm - 6:00 pm
Friday, Nov 17, 2017, 1:00 pm - 6:00 pm
Saturday, Nov 18, 2017, 1:00 pm - 6:00 pm
Tuesday, Nov 21, 2017, 1:00 pm - 6:00 pm
Wednesday, Nov 22, 2017, 1:00 pm - 6:00 pm
Thursday, Nov 23, 2017, 1:00 pm - 6:00 pm
Friday, Nov 24, 2017, 1:00 pm - 6:00 pm
Saturday, Nov 25, 2017, 1:00 pm - 6:00 pm
Tuesday, Nov 28, 2017, 1:00 pm - 6:00 pm
Wednesday, Nov 29, 2017, 1:00 pm - 6:00 pm
Thursday, Nov 30, 2017, 1:00 pm - 6:00 pm
Friday, Dec 1, 2017, 1:00 pm - 6:00 pm
Saturday, Dec 2, 2017, 1:00 pm - 6:00 pm
Tuesday, Dec 5, 2017, 1:00 pm - 6:00 pm
Wednesday, Dec 6, 2017, 1:00 pm - 6:00 pm
Thursday, Dec 7, 2017, 1:00 pm - 6:00 pm
Friday, Dec 8, 2017, 1:00 pm - 6:00 pm
Saturday, Dec 9, 2017, 1:00 pm - 6:00 pm
Tuesday, Dec 12, 2017, 1:00 pm - 6:00 pm
Wednesday, Dec 13, 2017, 1:00 pm - 6:00 pm
Thursday, Dec 14, 2017, 1:00 pm - 6:00 pm
Friday, Dec 15, 2017, 1:00 pm - 6:00 pm
Saturday, Dec 16, 2017, 1:00 pm - 6:00 pm
Tuesday, Dec 19, 2017, 1:00 pm - 6:00 pm
Wednesday, Dec 20, 2017, 1:00 pm - 6:00 pm
Thursday, Dec 21, 2017, 1:00 pm - 6:00 pm
Friday, Dec 22, 2017, 1:00 pm - 6:00 pm
Saturday, Dec 23, 2017, 1:00 pm - 6:00 pm
Tuesday, Dec 26, 2017, 1:00 pm - 6:00 pm
Wednesday, Dec 27, 2017, 1:00 pm - 6:00 pm
Thursday, Dec 28, 2017, 1:00 pm - 6:00 pm
Friday, Dec 29, 2017, 1:00 pm - 6:00 pm
Saturday, Dec 30, 2017, 1:00 pm - 6:00 pm
Tuesday, Jan 2, 2018, 1:00 pm - 6:00 pm
Wednesday, Jan 3, 2018, 1:00 pm - 6:00 pm
Thursday, Jan 4, 2018, 1:00 pm - 6:00 pm
Friday, Jan 5, 2018, 1:00 pm - 6:00 pm
Saturday, Jan 6, 2018, 1:00 pm - 6:00 pm
Tuesday, Jan 9, 2018, 1:00 pm - 6:00 pm
Wednesday, Jan 10, 2018, 1:00 pm - 6:00 pm
Thursday, Jan 11, 2018, 1:00 pm - 6:00 pm
Friday, Jan 12, 2018, 1:00 pm - 6:00 pm
Saturday, Jan 13, 2018, 1:00 pm - 6:00 pm
Tuesday, Jan 16, 2018, 1:00 pm - 6:00 pm
Wednesday, Jan 17, 2018, 1:00 pm - 6:00 pm
Thursday, Jan 18, 2018, 1:00 pm - 6:00 pm
Friday, Jan 19, 2018, 1:00 pm - 6:00 pm
Saturday, Jan 20, 2018, 1:00 pm - 6:00 pm
Tuesday, Jan 23, 2018, 1:00 pm - 6:00 pm
Wednesday, Jan 24, 2018, 1:00 pm - 6:00 pm
Thursday, Jan 25, 2018, 1:00 pm - 6:00 pm
Friday, Jan 26, 2018, 1:00 pm - 6:00 pm
Saturday, Jan 27, 2018, 1:00 pm - 6:00 pm
Tuesday, Jan 30, 2018, 1:00 pm - 6:00 pm
Wednesday, Jan 31, 2018, 1:00 pm - 6:00 pm
Wednesday, Feb 7, 2018, 1:00 pm
Thursday, Feb 8, 2018, 1:00 pm
Friday, Feb 9, 2018, 1:00 pm
Saturday, Feb 10, 2018, 1:00 pm
Tuesday, Feb 13, 2018, 1:00 pm
Wednesday, Feb 14, 2018, 1:00 pm - 6:00 pm
Thursday, Feb 15, 2018, 1:00 pm - 6:00 pm
Friday, Feb 16, 2018, 1:00 pm - 6:00 pm
Saturday, Feb 17, 2018, 1:00 pm - 6:00 pm
Tuesday, Feb 20, 2018, 1:00 pm - 6:00 pm
Wednesday, Feb 21, 2018, 1:00 pm - 6:00 pm
Thursday, Feb 22, 2018, 1:00 pm - 6:00 pm
Friday, Feb 23, 2018, 1:00 pm - 6:00 pm
Saturday, Feb 24, 2018, 1:00 pm - 6:00 pm
Tuesday, Feb 27, 2018, 1:00 pm - 6:00 pm
Wednesday, Feb 28, 2018, 1:00 pm - 6:00 pm
Saturday, Apr 28, 2018, 1:00 pm - 5:00 pm

Map
Bollinger County Museum of Natural History
207 Mayfield Dr., Marble Hill, MO