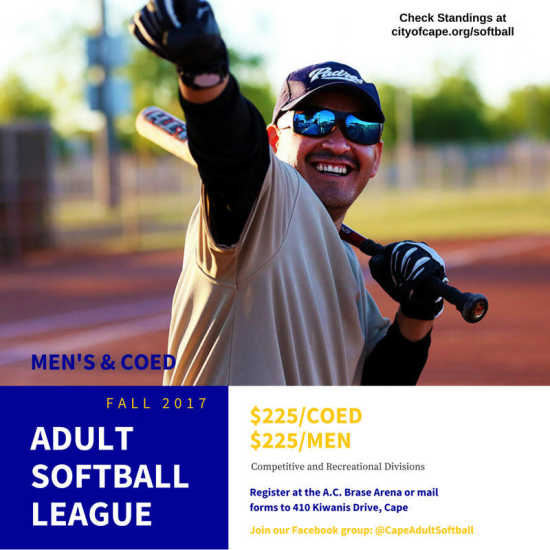 Past:

Men's & Coed Fall Adult Softball League
Shawnee Park Sports Complex
Sign ups are now open for our Men's and our Coed Fall 2017 Adult Softball League! Register at the A.C. Brase Arena by 9/1/17.
League play on Monday, Tuesday and Thursday evenings.
Competitive and Recreation Divisions
Tentative start date: Sept 18
Players can participate on a MAX of 1 Men's and 1 Coed Team.
$225 per team
Visit www.cityofcape.org/softball for more info!
Like us on social @CapeAdultSoftball
Past Dates & Times
Wednesday, Aug 2, 2017 (all day)
Thursday, Aug 3, 2017 (all day)
Friday, Aug 4, 2017 (all day)
Saturday, Aug 5, 2017 (all day)
Sunday, Aug 6, 2017 (all day)
Monday, Aug 7, 2017 (all day)
Tuesday, Aug 8, 2017 (all day)
Wednesday, Aug 9, 2017 (all day)
Thursday, Aug 10, 2017 (all day)
Friday, Aug 11, 2017 (all day)
Saturday, Aug 12, 2017 (all day)
Sunday, Aug 13, 2017 (all day)
Monday, Aug 14, 2017 (all day)
Tuesday, Aug 15, 2017 (all day)
Wednesday, Aug 16, 2017 (all day)
Thursday, Aug 17, 2017 (all day)
Friday, Aug 18, 2017 (all day)
Saturday, Aug 19, 2017 (all day)
Sunday, Aug 20, 2017 (all day)
Monday, Aug 21, 2017 (all day)
Tuesday, Aug 22, 2017 (all day)
Wednesday, Aug 23, 2017 (all day)
Thursday, Aug 24, 2017 (all day)
Friday, Aug 25, 2017 (all day)
Saturday, Aug 26, 2017 (all day)
Sunday, Aug 27, 2017 (all day)
Monday, Aug 28, 2017 (all day)
Tuesday, Aug 29, 2017 (all day)
Wednesday, Aug 30, 2017 (all day)
Thursday, Aug 31, 2017 (all day)
Friday, Sep 1, 2017 (all day)

Map
Shawnee Park Sports Complex
835 SOUTH WESTEND BLVD, CAPE GIRARDEAU, MO 63701