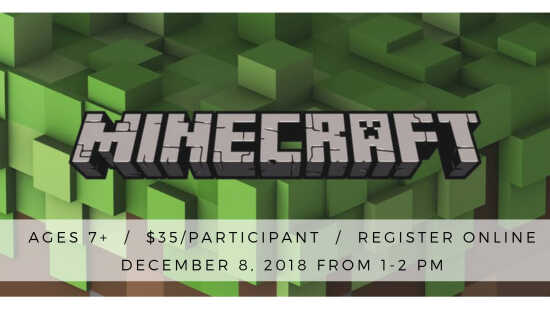 Past:

Technology Class: Minecraft Hour of Code
St. Paul Lutheran School
The Hour of Code™ is a global movement started by nonprofit Code.org
and reaching tens of millions of young people in over 180 countries.
The Hour of Code is designed to demystify code and encourage everybody
to learn the basics. Minecraft is excited to team up with Code.org and
Microsoft Philanthropies to provide young people an opportunity to
learn the basics of coding with a brand they know and love.
The Minecraft tutorials use characters and concepts from the Minecraft
video game, but it is not the game itself. For Hour of Code, Minecraft
developers worked with educators and Code.org to create a Minecraft
game-inspired tutorial that introduces players to basic coding
concepts.
Ages 7 and up
Date/Time: December 8 from 1-2 p.m. at St. Paul Lutheran School Computer Lab
Cost: $35/participant with proceeds supporting the 8th-grade class trip.
Tickets: https://www.eventbrite.com/e/minecraft-hour-of-code-tickets-49697502568
All proceeds will benefit the St. Paul 8th Grade class trip and will be split amongst student helpers!
Past Dates & Times
Saturday, Dec 8, 2018, 1:00 pm - 2:00 pm

Map
St. Paul Lutheran School
216 S. Russell St, Jackson, MO