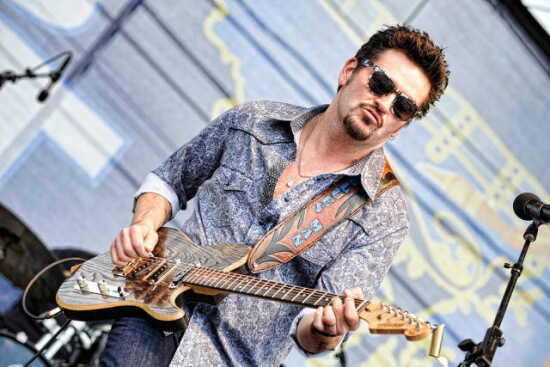 Past:

Mike Zito "First Class Life" Tour
Rude Dog Pub
(Cape Girardeau, MO) - 2018 BMA "Blues Rock Artist of the Year" Mike Zito brings the "First Class Life' Tour (in support of his recently-released Ruf Records album of the same name) locally to Rude Dog Pub, 123 N. Main St., for two big nights, Wednesday, December 12 and Thursday, December 13. Showtime: 9 p.m. nightly. Tickets: $10. Info: (573) 335-4447 or visit https://www.facebook.com/happyslapowitz/.
Year-end honors for First Class Life include a Top 10 Rockin' Blues Tunes of 2018 nod from Rock And Blues Muse, for Zito's "Mama Don't Like No Wah-Wah," writing the track is "Blues and funky fun with some outstanding guitar playing."
The prolific guitarist-vocalist was part of the 2018 Blues Caravan this past Summer along with fellow guitarists Bernard Allison and Ally Venable, a yearly, high-profile tour presented by German-based blues label, Ruf Records.
Zito won Blues Rock Artist of the Year this past May at the 2018 Blues Music Awards in Memphis, the 'Grammys of the Blues.' Additionally, Zito's First Class Life reached #1 on the National Roots Music Report Top 50 Blues Albums Chart.
"This is Southern Blues with real heart and a lot of soul, some stunning guitar work and playing of the first order," wrote Music-News.com in the UK about First Class Life. "Good Blues is not common – there is plenty of very ordinary Blues but very few artists as good as Zito." NO DEPRESSION raved, "Once again, Zito has delivered the goods, a first-class package with no postage due."
Ruf has just released "Blue Room," Zito's debut album that blew up the Ninties blues scene. These songs that announced the touchdown of a major new talent before he became an established solo star and member of the globally-acclaimed Royal Southern Brotherhood.
Past Dates & Times
Wednesday, Dec 12, 2018, 9:00 pm
Thursday, Dec 13, 2018, 9:00 pm

Map
Rude Dog Pub
123 N. Main St., Cape Girardeau, MO