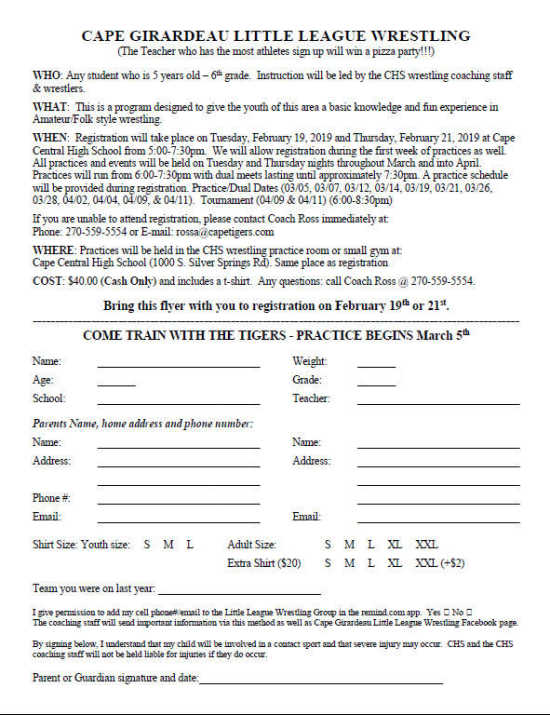 Past:

2019 Cape Little League Wrestling Sign-Ups
Cape Central High School
CAPE GIRARDEAU LITTLE LEAGUE WRESTLING
(The Teacher who has the most athletes sign up will win a pizza party!!!)
WHO: Any student who is 5 years old – 6th grade. Instruction will be led by the CHS wrestling coaching staff & wrestlers.
WHAT: This is a program designed to give the youth of this area a basic knowledge and fun experience in Amateur/Folk style wrestling.
WHEN: Registration will take place on Tuesday, February 19, 2019 and Thursday, February 21, 2019 at Cape Central High School from 5:00-7:30 p.m. We will allow registration during the first week of practices as well. All practices and events will be held on Tuesday and Thursday nights throughout March and into April.
Practices will run from 6:00-7:30 p.m. with dual meets lasting until approximately 7:30 p.m. A practice schedule will be provided during registration. Practice/Dual Dates (03/05, 03/07, 03/12, 03/14, 03/19, 03/21, 03/26, 03/28, 04/02, 04/04, 04/09, & 04/11). Tournament (04/09 & 04/11) (6:00-8:30 p.m.)
If you are unable to attend registration, please contact Coach Ross immediately at:
Phone: (270) 559-5554 or E-mail: rossa@capetigers.com
WHERE: Practices will be held in the CHS wrestling practice room or small gym at:
Cape Central High School (1000 S. Silver Springs Rd). Same place as registration
COST: $40.00 (Cash Only) and includes a t-shirt. Any questions: call Coach Ross @ (270) 559-5554.
Past Dates & Times
Tuesday, February 19, 2019, 5:00 pm - 7:30 pm
Thursday, February 21, 2019, 5:00 pm - 7:30 pm

Map
Cape Central High School
1000 S. Silver Springs Rd, Cape Girardeau, MO