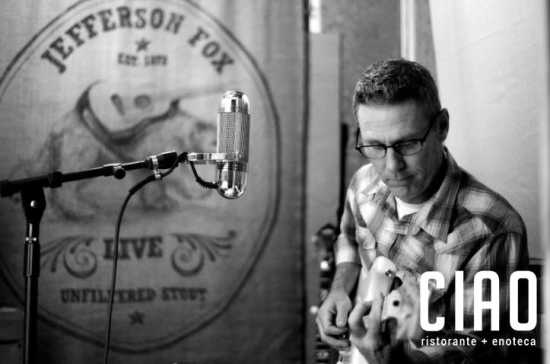 Past:

Jefferson Fox: LIVE at Ciao
Ciao Ristorante + Enoteca
We are pleased to announce a new music act to the restaurant, Jefferson Fox! After a five year hiatus from performance, he's back at it again, mesmerizing audiences with his insightful lyrics and rhythm-y guitar.
Join us for our "Roam the Rhône" wine tasting beforehand & stay for dinner and live music! There is no better way to unwind on a Wednesday, than with live music, delicious dinner specials, and great company!
Call (573) 332-8884 or visit ciaocape.com to make reservations.
WINE TASTING 4:00 p.m to 7 p.m. // LIVE MUSIC 6:00 p.m. to 9 p.m.
Past Dates & Times
Wednesday, August 14, 2019, 6:00 pm - 9:00 pm
Wednesday, September 18, 2019, 6:00 pm - 9:00 pm

Map
Ciao Ristorante + Enoteca
1650 N Kingshighway, Cape Girardeau, MO