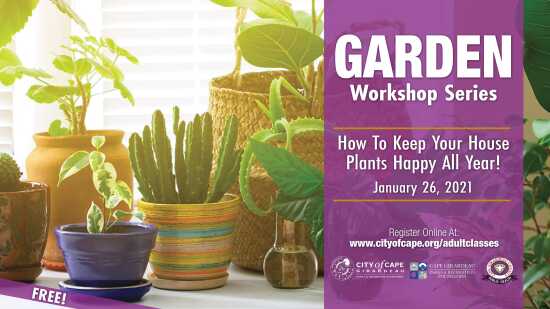 Garden Workshop Series: How To Keep Your House Plants Happy All Year!
Tuesday, January 26, 2021, 6:00 pm - 8:00 pm
Charles H. Huston Greenhouse
Are your house plants feeling droopy? Ever wonder how often to fertilize your plants in the winter? Need to know when you should re-pot that now giant "Ficus Tree" you received from Aunt Betty? This class will help shed some light on how you can keep your house plants thriving all year long. The Garden Workshop Series is a FREE program sponsored by the Cape County Health Department and the Parks and Recreation Foundation. These classes can have a maximum of 15 participants per class. Register online at www.cityofcape.org/adultclasses. Call 573-339-6340 with questions.
Contact
Phone: 573.339.6340
Map
Charles H. Huston Greenhouse
1039 Bertling St, Cape Girardeau, MO 63701