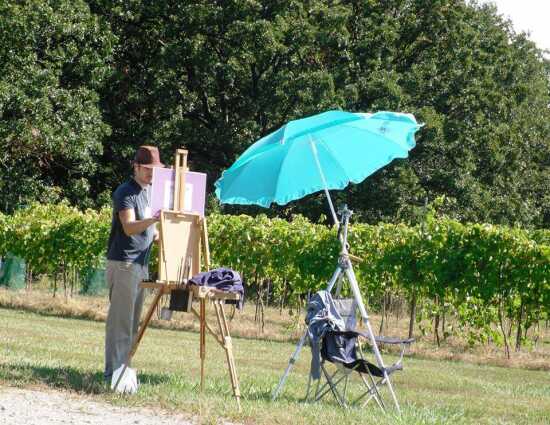 Past:

Plein Air Art Competition, Show and Sale
Historic Downtown Ste. Genevieve
Following the European tradition of capturing the atmosphere of the outdoors, the region's finest plein air painters are invited to join the realms of the famous regionalist artists of the 1930s by painting outdoors in the scenic Sainte Genevieve area. Contemporary painters will find the same French colonial buildings, Victorian commercial structures, and extensive gardens in the downtown historic district that intrigued the Art Colony artists some 80 years ago. Nearby wineries and hiking trails also may provide inspiration.
Registration is open from 8am to 4pm, Sept. 21, 22, 23 and 8 to 11am Sept 2, 2022, at the Art Center. Go to www.artstegen.org for more information on entering the Plein Air Art Competition.
Paintings will be on display and for sale at the Ste. Genevieve Art Center Saturday evening 6:00-9:00 and Sunday 11:00-2:00. Vote for your favorite painting either Saturday night or Sunday until 1:00 and then see who won the $3000 in total awards!
This event is sponsored by the Sainte Genevieve Art Guild.
Past Dates & Times
Wednesday, September 21, 2022, 8:00 am - 4:00 pm
Thursday, September 22, 2022, 8:00 am - 4:00 pm
Friday, September 23, 2022, 8:00 am - 4:00 pm
Saturday, September 24, 2022, 6:00 pm - 9:00 pm
Sunday, September 25, 2022, 11:00 am - 2:00 pm

Map
Historic Downtown Ste. Genevieve
N Main St, Ste. Genevieve, MO