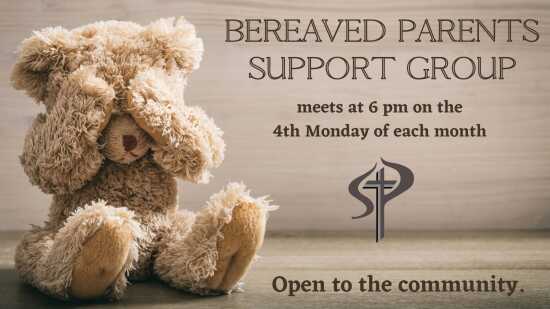 Bereaved Parents Support Group
Monday, October 24, 2022, 6:00 pm - 7:30 pm
St. Paul Lutheran Church
In 2022, the Bereaved Parents Support Group will meet in person again on the 4th Monday of each month at 6 pm at St. Paul Lutheran Church in Jackson. Anyone who has lost a child is welcome to attend. The group is open to the community.
Questions: Molly at 573-275-3744
Please park in the fenced-in parking lot on the corner of Adams St/Missouri St. Enter the building and go down the elevator to the 1st Floor (Fellowship Hall). The meeting is in the Board Room.
Dates & Times
Monday, October 24, 2022, 6:00 pm - 7:30 pm
Monday, November 28, 2022, 6:00 pm - 7:30 pm
Monday, December 26, 2022, 6:00 pm - 7:30 pm

Map
St. Paul Lutheran Church
223 W. Adams St., Jackson, MO