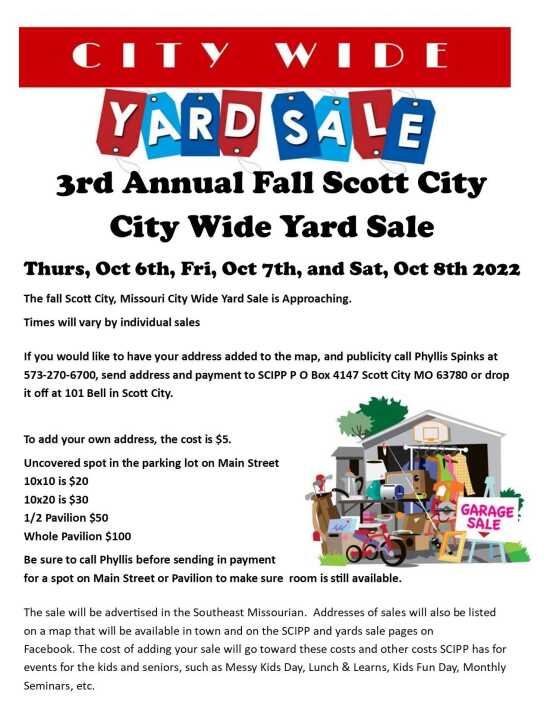 Past:

3rd Annual Scott City Fall Yard Sale
City of Scott City
SCIPP (Scott City Interactive Parks Program) is hosting the 3rd Annual Fall Scott City MO City Wide Yard Sale
Thursday, Oct 6th - Saturday, Oct 8th, 2022
Times will vary by individual sales
If you would like to have your address added to the map and publicity call Phyllis Spinks at 573-270-6700, send address and payment to SCIPP P O BOX 4147 Scott City MO 63780 or drop it off at 101 Bell in Scott City.
The cost to add your own address is only $5. This $5 helps SCIPP to advertise the sale in the Southeast Missourian and helps with the costs of other SCIPP events throughout the year -- Messy Kids Day, Kids Fun Day, Lunch & Learns, Monthly Seminars, Senior Health Fair, etc.
Spots are also available in the parking lot on Main Street
UNCOVERED 10x10 spot is $20
UNCOVERED 10x20 spot is $30
1/2 Pavilion $50
Whole Pavilion $100
Be sure to call Phyllis before sending in payment for a spot on Main Street or Pavilion to make sure room is still available.
Past Dates & Times
Thursday, October 6, 2022 (time TBA)
Friday, October 7, 2022 (time TBA)
Saturday, October 8, 2022 (time TBA)

Map
City of Scott City
Scott City, MO