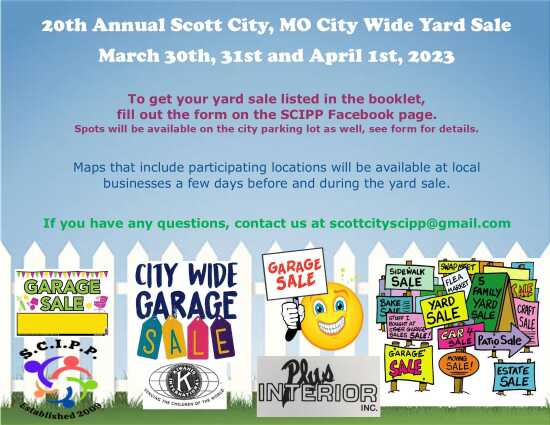 20th Annual Scott City City Wide Yard Sale
Thursday, March 30, 2023 (all day)
Scott City, MO
20th Annual Scott City, MO City Wide Yard Sale
March 30th, 31st and April 1st, 2023
To get your yard sale listed in the booklet FOR FREE,
fill out the form on the SCIPP Facebook page or at the library.
Spots will be available on the city parking lot as well for $20 per parking spot
or 2 spots for $30. 1/2 of pavilion $50,
You must contact Phyllis at 573-270-6700 for these spots.
Maps that include participating locations will be available at local
businesses and online a few days before and during the yard sale.
If you have any questions, contact us at scottcityscipp@gmail.com,
speak with Joyce at the library or call Phyllis at 573-270-6700
Dates & Times
Thursday, March 30, 2023 (all day)
Friday, March 31, 2023 (all day)
Saturday, April 1, 2023 (all day)