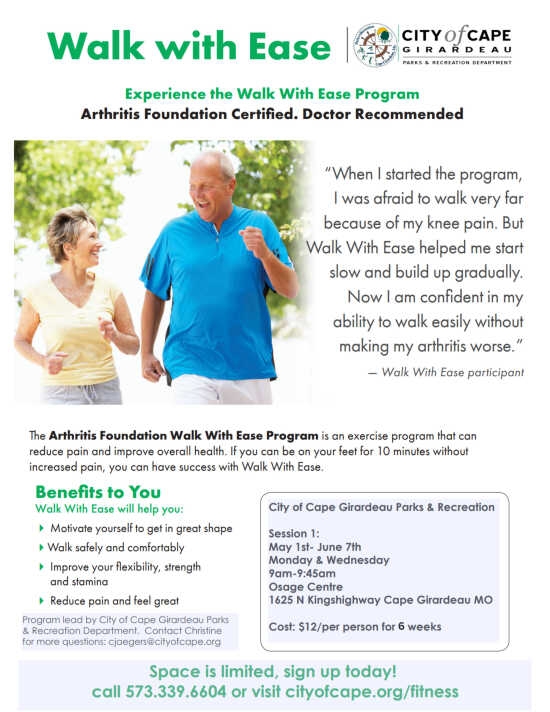 Past:

Walk with Ease: Walking Program
Osage Centre
Join the City of Cape Girardeau's Walking Program through the Arthritis Foundation!
Great program for all levels.
We'll start each class with education about health, followed with a short walk (start at 10 min and build each week) and then stretch.
We meet for 6 weeks on Monday & Wednesdays (Expect Memorial Day) at 9am
May 1- June 6th
Program begins at Osage but we will work our way through different walking locations in cape!
Only $12 for entire 6 weeks ($1/class)
Sign up today!
#573.339.6604
cityofcape.org/wellnessevents
Past Dates & Times
Monday, May 1, 2023, 9:00 am - 10:00 am
Wednesday, May 3, 2023, 9:00 am - 10:00 am
Monday, May 8, 2023, 9:00 am - 10:00 am
Wednesday, May 10, 2023, 9:00 am - 10:00 am
Monday, May 15, 2023, 9:00 am - 10:00 am
Wednesday, May 17, 2023, 9:00 am - 10:00 am
Monday, May 22, 2023, 9:00 am - 10:00 am
Wednesday, May 24, 2023, 9:00 am - 10:00 am
Wednesday, May 31, 2023, 9:00 am - 10:00 am
Monday, June 5, 2023, 9:00 am - 10:00 am
Wednesday, June 7, 2023, 5:30 pm - 10:00 am

Map
Osage Centre
1625 N Kingshighway St