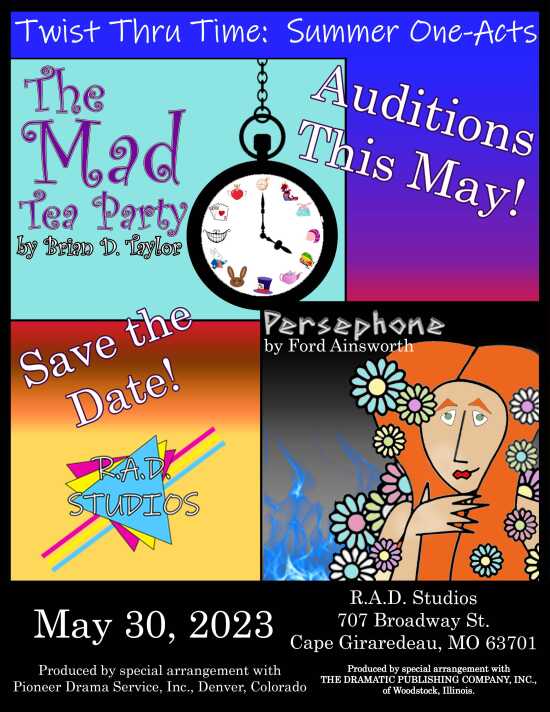 AUDITION ANNOUNCEMENT: "Twist Thru Time: Summer One-Acts"
Tuesday, May 30, 2023, 6:00 pm - 8:00 pm
R.A.D. Studios
*****SUMMER ONE-ACTS AUDITION ANNOUNCEMENT*****
REMEMBER TO SAVE THE DATE!
Ages 8 years to adult!
May 30th at 707 Broadway (within Fingerprint Dance Studio - Enter through rear door) at 6:00pm!
Auditions packets are available soon! Message us to get an electronic copy early once available. Actors will be considered for both plays.
If you have questions, reach out to us through messenger and ask for the directors, Gray Jinks (The Mad tea Party) or Robb Davis (Persephone).
We're excited to see everyone! Thank you to all the sponsors for helping us provide these amazing opportunity for our youth community and community-at-large.
"The Mad tea Party" by Brian D. Taylor
"Mad Hatter, Dormouse, and March Hare meet for a tea party to honor Time, who has forgiven the Hatter and set time right once again. When the Jabberwock comes and wreaks havoc, the tea party guests — including the Caterpillar, the Duchess, the Frog Footman, and Tweedledee and Tweedledum — decide that something must be done. Time suggests they travel back through time to the moment when the Jabberwock arrives so that they might catch him. They travel back several times, but White Rabbit's watch is fast, Hatter's is slow, and they just can't catch the Jabberwock. Finally, Hare realizes they must fix the nick in Time... Time's cloak, that is, to save them from the Jabberwock! After all, a stitch in Time saves nine!"
Produced by special arrangement with Pioneer Drama Service, Inc., Denver, Colorado.
"Persephone" by Ford Ainsworth
"This one-act comedy retells the myth in which Hades, god of death, kidnaps Persephone, goddess of life and spring. But while Persephone is usually presented as the sad-eyed queen of the underworld, here she is a happy breath of spring that makes life glitter wherever she is—even in Hades. Her conflict with the dead, who are trying their best to rest in peace, makes one of the most imaginative as well as meaningful literary works of the decade. In Greek mythology, Persephone, the daughter of Demeter (Mother Earth), bit into a forbidden pomegranate and was sentenced to spend a month in the underworld for each of the six seeds she swallowed. That's why Earth has six months of bad weather (Demeter is crying for her daughter) and six months of happy, bright spring and summer. But according to this dramatization, when Persephone descended into Hades, she took along a happy breath of spring that made life glitter in the dark underworld. Some of the dead don't like the glitter. But the irresistible charm of Persephone infects even the darkly handsome King of the Dead and the crotchety old ferryman, Charon. A romantic comedy, the play visualizes the havoc that youthful innocence can create in the somber world of harsh realities..."
Produced by special arrangement with THE DRAMATIC PUBLISHING COMPANY, INC., of Woodstock, Illinois.