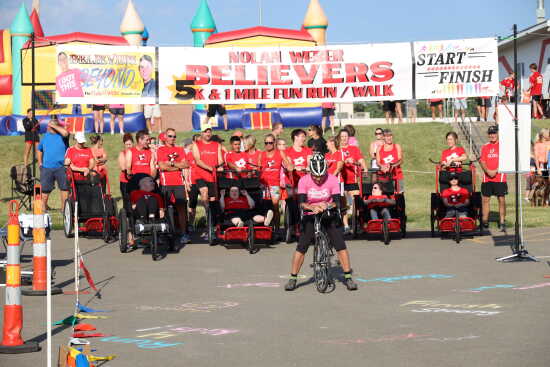 Past:

10th Annual Nolan Weber Believers 5K, 1 Mile & Kids Color Dash
Jackson Junior High School
The event is a fundraiser to support the Foundation which is a 501(c)3 charity. 2023 is going to be great year with something for everyone.  5K timed run on a great course.  It is the same course the high school soccer players use to keep in shape. In 2015 we added a 5K walk as well as a 1 mile course and a kids 100 yard COLOR dash on the football field behind the Jackson Junior High School. There will even be bouncy houses for kids and adults to enjoy!   Make sure to enjoy the snacks available after the race.  Hopefully you won't need the services of the onsite trainers but they will be there just in case.
Dog friendly event, make sure to stop by the PUP tent, for special doggie bags!
Cape Girardeau Road Runners Grand Prix Series Event.
WE HOPE TO SEE YOU THERE!
Past Dates & Times
Saturday, September 23, 2023, 9:00 am - noon

Map
Jackson Junior High School
2135 Providence Drive