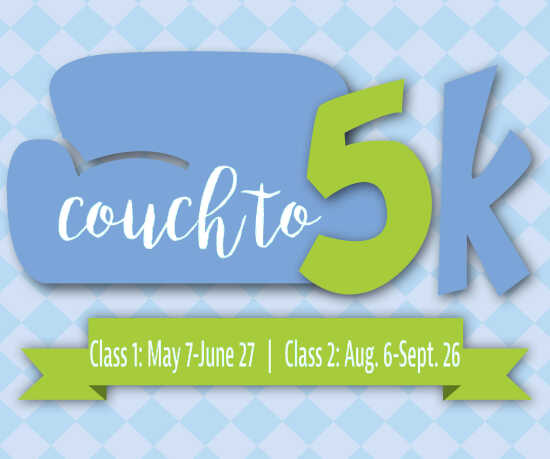 Past:

Couch to 5K Training Course
Arena Shelter #1
8 Week Course to learn how to participate in a 5K.
Join our group to build your endurance over 2 months with Certified Fitness Professionals.
Learn the techniques, tips, and "how to's" of participating in a 5k or just adding running to your routine.
No running experience needed! Just grab your water and running shoes and you're ready to go!
Meeting dates are Mondays & Wednesdays at 5:30 pm -6:30 p.m.
Pre-register at A.C. Brase Arena or Osage Centre or contact Christine at 339-6604 for more details.
Past Dates & Times
Monday, June 13, 2016, 5:30 pm - 6:30 pm
Wednesday, June 15, 2016, 5:30 pm - 6:30 pm
Monday, June 20, 2016, 5:30 pm - 6:30 pm
Wednesday, June 22, 2016, 5:30 pm - 6:30 pm
Monday, June 27, 2016, 5:30 pm - 6:30 pm
Wednesday, June 29, 2016, 5:30 pm - 6:30 pm
Monday, May 7, 2018, 5:30 pm - 6:30 pm
Wednesday, May 9, 2018, 5:30 pm - 6:30 pm
Monday, May 14, 2018, 5:30 pm - 6:30 pm
Wednesday, May 16, 2018, 5:30 pm - 6:30 pm
Monday, May 21, 2018, 5:30 pm - 6:30 pm
Wednesday, May 23, 2018, 5:30 pm - 6:30 pm
Monday, May 28, 2018, 5:30 pm - 6:30 pm
Wednesday, May 30, 2018, 5:30 pm - 6:30 pm
Monday, June 4, 2018, 5:30 pm - 6:30 pm
Wednesday, June 6, 2018, 5:30 pm - 6:30 pm
Monday, June 11, 2018, 5:30 pm - 6:30 pm
Wednesday, June 13, 2018, 5:30 pm - 6:30 pm
Monday, June 18, 2018, 5:30 pm - 6:30 pm
Wednesday, June 20, 2018, 5:30 pm - 6:30 pm
Monday, June 25, 2018, 5:30 pm - 6:30 pm
Wednesday, June 27, 2018, 5:30 pm - 6:30 pm
Monday, August 6, 2018, 5:30 pm - 6:30 pm
Wednesday, August 8, 2018, 5:30 pm - 6:30 pm
Monday, August 13, 2018, 5:30 pm - 6:30 pm
Wednesday, August 15, 2018, 5:30 pm - 6:30 pm
Monday, August 20, 2018, 5:30 pm - 6:30 pm
Wednesday, August 22, 2018, 5:30 pm - 6:30 pm
Monday, August 27, 2018, 5:30 pm - 6:30 pm
Wednesday, August 29, 2018, 5:30 pm - 6:30 pm
Monday, September 3, 2018, 5:30 pm - 6:30 pm
Wednesday, September 5, 2018, 5:30 pm - 6:30 pm
Monday, September 10, 2018, 5:30 pm - 6:30 pm
Wednesday, September 12, 2018, 5:30 pm - 6:30 pm
Monday, September 17, 2018, 5:30 pm - 6:30 pm
Wednesday, September 19, 2018, 5:30 pm - 6:30 pm
Monday, September 24, 2018, 5:30 pm - 6:30 pm
Wednesday, September 26, 2018, 5:30 pm - 6:30 pm

Map
Arena Shelter #1
410 Kiwanis Dr, Cape Girardeau, MO 63701