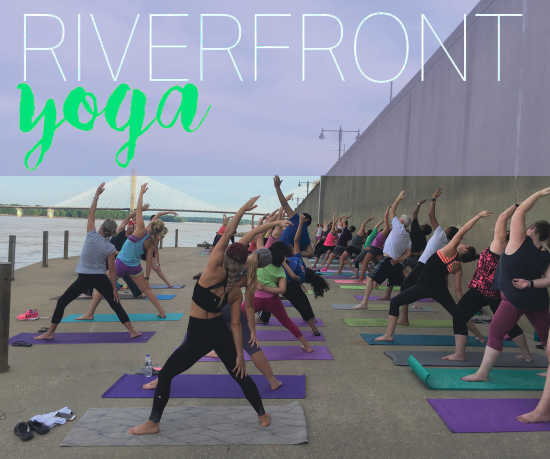 Past:

National Yoga Day
Cape Girardeau Riverfront Park
Come Join us to celebrate Yoga all around the World! Yoga for beginners to advanced!
We will celebrate with free Yoga along the Mississippi River in the Riverfront Park and finish with a delicious treat from Faithfully Fed.
Pre-register to make sure you get a tasty treat: www.cityofcape.org/fitness
Cost: $0
Time: 5:30 p.m.
Date: June 21st
Class meets at the riverfront (steps near the flood gates at the intersection of Broadway and Water Street). Come and enjoy an energized yoga flow with a scenic backdrop. NO experience required.
Please bring a mat, towel, and water. Mats are provided, if needed.
For more information, visit cityofcape.org/fitness or contact Fitness & Wellness Specialist: Christine at cjaegers@cityofcape.org
Past Dates & Times
Saturday, July 2, 2016, 8:00 am - 9:00 am
Saturday, July 9, 2016, 8:00 am - 9:00 am
Saturday, July 16, 2016, 8:00 am - 9:00 am
Saturday, July 23, 2016, 8:00 am - 9:00 am
Saturday, July 30, 2016, 8:00 am - 9:00 am
Saturday, August 6, 2016, 8:00 am - 9:00 am
Saturday, August 13, 2016, 8:00 am - 9:00 am
Saturday, August 20, 2016, 8:00 am - 9:00 am
Saturday, August 27, 2016, 8:00 am - 9:00 am
Thursday, June 21, 2018, 8:00 am - 9:00 am

Map
Cape Girardeau Riverfront Park
Riverfront Flood Gates, Cape Girardeau, MO