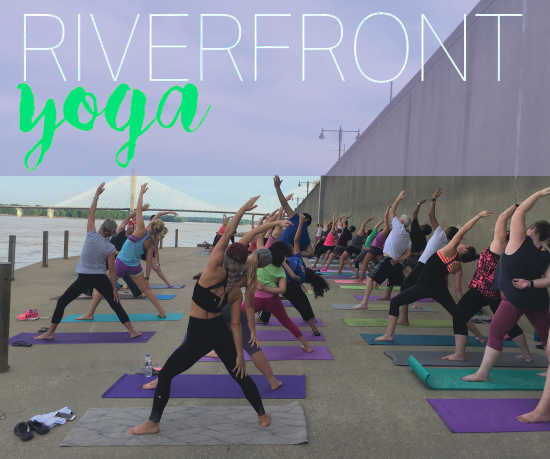 Past:

Riverfront Yoga
Downtown Cape Girardeau
Join Cape Girardeau Parks & Recreation Group Fitness Instructors every Saturday at the Cape Girardeau Riverfront in downtown Cape Girardeau past the Floodgates for Yoga! Classes are held every Saturday is 8:15 to 9 a.m.
This Yoga class is a great class for all levels and ages. We offer modifications to fit your levels and make sure you feel comfortable and ready to join the fun. With a perfect view of the Mississippi River, your Saturday morning couldn't start any better way.
We encourage you to bring a mat and some water and join the fun! cityofcape.org/fitness or email Christine Jaegers: cjaegers@cityofcape.org for more information. Follow Cape Riverfront Yoga on Facebook for updates!
Past Dates & Times
Saturday, July 30, 2022, 8:00 am - 9:00 am
Saturday, August 6, 2022, 8:00 am - 9:00 am
Saturday, August 13, 2022, 8:00 am - 9:00 am
Saturday, August 20, 2022, 8:00 am - 9:00 am
Saturday, August 27, 2022, 8:00 am - 9:00 am
Saturday, September 3, 2022, 8:00 am - 9:00 am
Saturday, September 10, 2022, 8:00 am - 9:00 am
Saturday, September 17, 2022, 8:00 am - 9:00 am
Saturday, September 24, 2022, 8:00 am - 9:00 am
Saturday, October 1, 2022, 8:00 am - 9:00 am
Saturday, October 8, 2022, 8:00 am - 9:00 am
Saturday, October 15, 2022, 8:00 am - 9:00 am
Saturday, October 22, 2022, 8:00 am - 9:00 am
Saturday, October 29, 2022, 8:00 am - 9:00 am
Saturday, June 3, 2023, 8:00 am - 9:00 am
Saturday, June 10, 2023, 8:00 am - 9:00 am
Saturday, June 17, 2023, 8:00 am - 9:00 am
Saturday, June 24, 2023, 8:00 am - 9:00 am
Saturday, July 1, 2023, 8:00 am - 9:00 am
Saturday, July 8, 2023, 8:00 am - 9:00 am
Saturday, July 15, 2023, 8:00 am - 9:00 am
Saturday, July 22, 2023, 8:00 am - 9:00 am
Saturday, July 29, 2023, 8:00 am - 9:00 am
Saturday, August 5, 2023, 8:00 am - 9:00 am
Saturday, August 12, 2023, 8:00 am - 9:00 am
Saturday, August 19, 2023, 8:00 am - 9:00 am
Saturday, August 26, 2023, 8:00 am - 9:00 am
Saturday, September 2, 2023, 8:00 am - 9:00 am
Saturday, September 9, 2023, 8:00 am - 9:00 am
Saturday, September 16, 2023, 8:00 am - 9:00 am
Saturday, September 23, 2023, 8:00 am - 9:00 am
Saturday, September 30, 2023, 8:00 am - 9:00 am

Map
Downtown Cape Girardeau
Broadway and Main Street, Cape Girardeau, MO