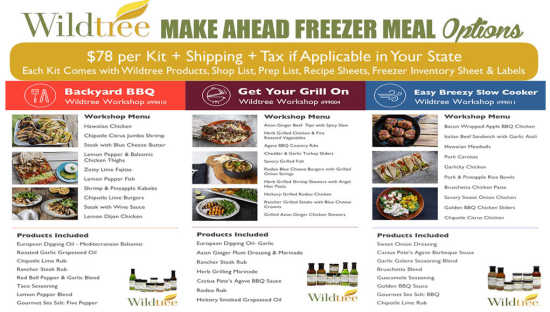 Past:

Meal Prep Workshop
Heritage Family Insurance
Come join me for a Wildtree Simple.Healthy.Workshop!! We will assemble 10-20 MEALS for your freezer. Each meal serves 4-6 people and breaks down to less than $4.00/serving! That's cheaper than fast food and MUCH healthier.
Wildtree products are all-natural, organic certified and are completely free of MSG, GMOs, high fructose corn syrup, additives, preservatives, food dyes and all of our products are 100% peanut free.
Here's how it works:
1) REGISTER for the workshop by clicking GOING to the event. Nicole will reach out to you to collect your info and Invoices for your workshop will be sent via email after the registration deadline. (pay securely online!)
2) You will receive your personal shopping list & pre workshop prep list and you shop for your protein/veggies for all 10 meals and a small handful of additional groceries.
3) Next, you come to the Workshop at Mandis house excited to tackle half a month's worth of meals, while we hang out. All of your Wildtree oils, blends, marinades and mixes will be waiting for you, plus bonus ingredients needed to complete your meals! We'll have fun and assemble 10 meals in under 2 hours!
4) Take home your 10 meals to freeze and have ready for busy nights! You will get all the recipes, additional recipes, inventory for your freezer and take home all your remaining Wildtree products to make more meals!
The $78 cost covers your 7 full size Wildtree products. (+S&H). You will use a portion of your ingredients at the Workshop and take the remainder home to use in 20+ additional recipes!
Past Dates & Times
Wednesday, Jun 21, 2017, 7:00 pm - 9:00 pm
Wednesday, Jun 28, 2017, 7:00 pm - 9:00 pm

Map
Heritage Family Insurance
2370 N. High St. Jackson, MO