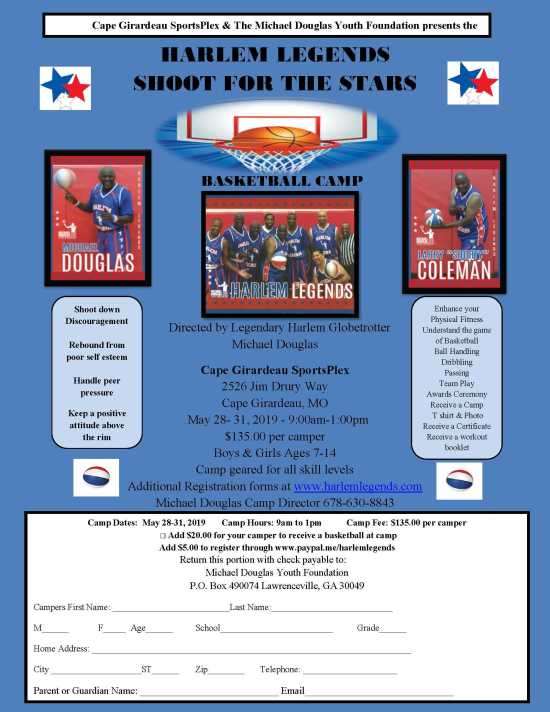 Past:

Harlem Legends Shoot for the Stars Basketball Camp
Cape Girardeau Sportsplex
Legendary Harlem Globetrotters Michael Douglas and Larry Shorty Coleman will conduct the Harlem Legends Shoot for the Stars Basketball Camp for boys & girls ages 7-14. May 28-31,2019 9 a.m. - 1 p.m. at Cape Girardeau SportsPlex 2526 Jim Drury Way Cape Girardeau, MO.
Campers will Enhance their Physical Fitness, Understand the game of Basketball
Ball Handling, Dribbling, Passing, and Team Play. There will be an Awards Ceremony and campers will receive a T Shirt, Photo, Certificate and a Workout Booklet. To register download the flyer or visit www.paypal.me/harlemlegends.
For more information email us at harlemlegends24@harlemlegends.com,
call 678-630-8843 or visit www.harlemlegends.com
Michael Douglas
Camp Director
Past Dates & Times
Tuesday, May 28, 2019, 9:00 am - 1:00 pm
Wednesday, May 29, 2019, 9:00 am - 1:00 pm
Thursday, May 30, 2019, 9:00 am - 1:00 pm
Friday, May 31, 2019, 9:00 am - 1:00 pm

Map
Cape Girardeau Sportsplex
2526 Jim Drury Way, Cape Girardeau, MO