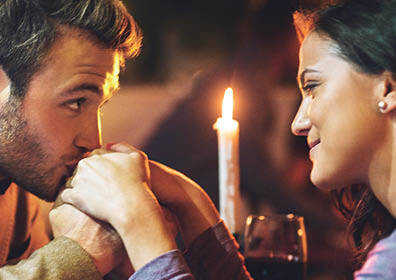 Past:

Valentine's Day Specials
Isle Casino Cape Girardeau
Looking to treat your sweetheart this Valentine's Day? No worries, we have you covered for three days! Enjoy you can enjoy our Valentine's Day Specials from Keller's or Farraddays' on either Thursday February 14, Friday February 15 or Saturday February 16.
Farraddays' Three-Course Meal · $35.00
Thursday, February 14 · 11:00AM - 3:00PM & 4:00PM - 8:00PM
Friday, February 15 & Saturday, February 16 · 11:00AM - 3:00PM & 4:00PM - 9:00PM
Enjoy a three-course meal from Farraddays' for just $35.00. Our three-course meal includes your choice of a soup or salad, Surf 'N Turf Pasta, Braised Beef Short Rib and Red Shrimp over cheese Tortellini with Marsala Cream Sauce. Then, finish the night off with a tasty choice of any of our Farraddays' desserts such as Farraddays' Signature Gooey Butter Cake, New York-Style Cheesecake or Chocolate Lava Cake.
Want to make reservations? Call 573-730-7777
Keller's Dinner for Two · $69.99
Thursday, February 14 · 4:00PM - 9:00PM
Friday, February 15 & Saturday, February 16 · 4:00PM - 10:00PM
You can treat your honey to live music and dinner! Spend your Valentine's Day weekend in Keller's! You can enjoy a Seafood trio platter with marinated grilled lobster tails, ale tempura shrimp and blue crab dip served along side with garlic pita bread, roasted red potatoes and Chef's vegetables. Indulge in a Turtle Cheesecake for dessert.
Enjoy free live entertainment by Greg Pursley on Thursday, February 14 from 5:00pm - 9:00pm. Bittersweet Band will play on Friday, February 15 from 6:00pm - 10:00pm. What better way to spend your Valentine's Day?
Past Dates & Times
Thursday, February 14, 2019, 11:00 am
Friday, February 15, 2019, 11:00 am
Saturday, February 16, 2019, 11:00 am

Map
Isle Casino Cape Girardeau
777 N. Main St., Cape Girardeau, MO