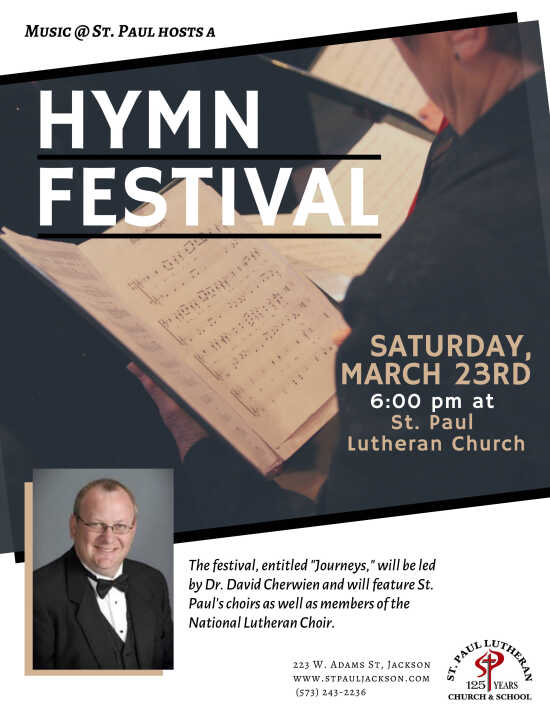 Past:

125th Anniversary Hymn Festival
St. Paul Lutheran Church
As part of our 125th Anniversary year, Dr. David Cherwien will lead a hymn festival on Saturday, March 23rd at 6:00 p.m. The festival entitled "Journeys" will serve as our Saturday worship service and will feature St. Paul's choirs as well as members of the National Lutheran Choir. Dr. Cherwien is currently serving as Director of Music at Mt. Olive Lutheran Church, Minneapolis, MN, and in 2002 was appointed Music Director for the National Lutheran Choir, also based in the Twin Cities. He completed the Doctor of Musical Arts degree in organ performance, and the Master of Arts degree in Theory and Composition, both from the University of Minnesota. His undergraduate work was in organ performance and music education at Augsburg College, Minneapolis, where he was honored as distinguished alumni in the fall of 2000. Following his undergraduate work he studied for two years at the Berlin Church Music School in Berlin, Germany. There he studied improvisation with Renate Zimmermann, organ Literature with Karl Hochreither, and composition with the late Ernst Pepping. He has also studied organ with Christian Baude in Aix-en-Provence, France, and with Paul Manz, Heinrich Fleisher, and Earl Barr in this country, and is a Fellow with Melodious Accord, studying composition with Alice Parker.
He is composer of the popular series for organ, Interpretations, based on hymn tunes (Lorenz) and has published other liturgical music for choir and organ with AMSI, Abingdon, GIA, MorningStar, Concordia, Augsburg/Fortress, and Choristers Guild. He is author of the book Let the People Sing, a practical guide for those who lead the congregation in song, published in 1997 by Concordia. He has recorded two CD's of congregational hymns and organ arrangements with AMSI called Interpretations.
Dr. Cherwien has distinguished himself among American organists by his ability to play an entire church service, including prelude, postlude, liturgy, and hymns, with very little reference to printed music. In the European tradition of church organists, going back to the time of Bach and before, he composes or improvises much of the music he plays in a worship service. Please plan to participate in this special evening!
Past Dates & Times
Saturday, March 23, 2019, 6:00 pm

Map
St. Paul Lutheran Church
223 W. Adams St., Jackson, MO