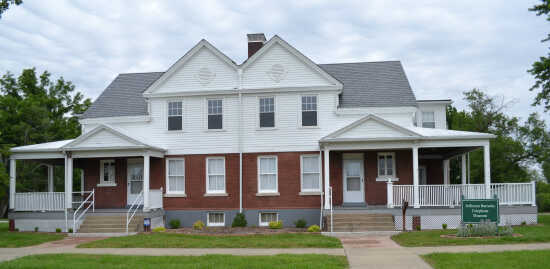 Past:

Jefferson Barracks Telephone Museum - Military Telephone Exhibit
Jefferson Barracks Telephone Museum
To commemorate the upcoming 75th anniversary of D-Day, the Jefferson Barracks Telephone Museum has created an exhibit featuring telephones used by military personnel.
Housed in a restored 1896 building, the museum also features an extensive collection of telephones manufactured from the early 1900s through the 2000s, hundreds of pieces of telephone-related equipment, memorabilia from 1880s through the 2000s, a wide variety of novelty telephones and much more. It is located in the historic Jefferson Barracks Park, a 15-minute drive south of downtown St. Louis.
The Jefferson Barracks Telephone Museum has many hands-on, how-things-work exhibits which were created to inspire an interest in engineering and history.
Past Dates & Times
Wednesday, April 3, 2019, 9:00 am - 2:00 pm
Thursday, April 4, 2019, 9:00 am - 2:00 pm
Friday, April 5, 2019, 9:00 am - 2:00 pm
Saturday, April 6, 2019, 9:00 am - 2:00 pm
Sunday, April 7, 2019, 9:00 am - 2:00 pm
Wednesday, April 10, 2019, 9:00 am - 2:00 pm
Thursday, April 11, 2019, 9:00 am - 2:00 pm
Friday, April 12, 2019, 9:00 am - 2:00 pm
Saturday, April 13, 2019, 9:00 am - 2:00 pm
Sunday, April 14, 2019, 9:00 am - 2:00 pm
Wednesday, April 17, 2019, 9:00 am - 2:00 pm
Thursday, April 18, 2019, 9:00 am - 2:00 pm
Friday, April 19, 2019, 9:00 am - 2:00 pm
Saturday, April 20, 2019, 9:00 am - 2:00 pm
Wednesday, April 24, 2019, 9:00 am - 2:00 pm
Thursday, April 25, 2019, 9:00 am - 2:00 pm
Friday, April 26, 2019, 9:00 am - 2:00 pm
Saturday, April 27, 2019, 9:00 am - 2:00 pm
Sunday, April 28, 2019, 9:00 am - 2:00 pm
Wednesday, May 1, 2019, 9:00 am - 2:00 pm
Thursday, May 2, 2019, 9:00 am - 2:00 pm
Friday, May 3, 2019, 9:00 am - 2:00 pm
Saturday, May 4, 2019, 9:00 am - 2:00 pm
Sunday, May 5, 2019, 9:00 am - 2:00 pm
Wednesday, May 8, 2019, 9:00 am - 2:00 pm
Thursday, May 9, 2019, 9:00 am - 2:00 pm
Friday, May 10, 2019, 9:00 am - 2:00 pm
Saturday, May 11, 2019, 9:00 am - 2:00 pm
Sunday, May 12, 2019, 9:00 am - 2:00 pm
Wednesday, May 15, 2019, 9:00 am - 2:00 pm
Thursday, May 16, 2019, 9:00 am - 2:00 pm
Friday, May 17, 2019, 9:00 am - 2:00 pm
Saturday, May 18, 2019, 9:00 am - 2:00 pm
Sunday, May 19, 2019, 9:00 am - 2:00 pm
Wednesday, May 22, 2019, 9:00 am - 2:00 pm
Thursday, May 23, 2019, 9:00 am - 2:00 pm
Friday, May 24, 2019, 9:00 am - 2:00 pm
Saturday, May 25, 2019, 9:00 am - 2:00 pm
Sunday, May 26, 2019, 9:00 am - 2:00 pm
Wednesday, May 29, 2019, 9:00 am - 2:00 pm
Thursday, May 30, 2019, 9:00 am - 2:00 pm
Friday, May 31, 2019, 9:00 am - 2:00 pm
Saturday, June 1, 2019, 9:00 am - 2:00 pm
Sunday, June 2, 2019, 9:00 am - 2:00 pm
Wednesday, June 5, 2019, 9:00 am - 2:00 pm
Thursday, June 6, 2019, 9:00 am - 2:00 pm
Friday, June 7, 2019, 9:00 am - 2:00 pm
Saturday, June 8, 2019, 9:00 am - 2:00 pm
Sunday, June 9, 2019, 9:00 am - 2:00 pm
Wednesday, June 12, 2019, 9:00 am - 2:00 pm
Thursday, June 13, 2019, 9:00 am - 2:00 pm
Friday, June 14, 2019, 9:00 am - 2:00 pm
Saturday, June 15, 2019, 9:00 am - 2:00 pm
Sunday, June 16, 2019, 9:00 am - 2:00 pm
Wednesday, June 19, 2019, 9:00 am - 2:00 pm
Thursday, June 20, 2019, 9:00 am - 2:00 pm
Friday, June 21, 2019, 9:00 am - 2:00 pm
Saturday, June 22, 2019, 9:00 am - 2:00 pm
Sunday, June 23, 2019, 9:00 am - 2:00 pm
Wednesday, June 26, 2019, 9:00 am - 2:00 pm
Thursday, June 27, 2019, 9:00 am - 2:00 pm
Friday, June 28, 2019, 9:00 am - 2:00 pm
Saturday, June 29, 2019, 9:00 am - 2:00 pm
Sunday, June 30, 2019, 9:00 am - 2:00 pm

Map
Jefferson Barracks Telephone Museum
12 Hancock Ave, Saint Louis MO