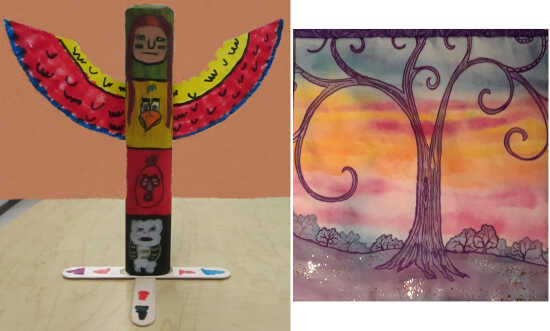 Past:

Art Classes forming now!
Next Level Art
QUILT CLASSES AND TOTEM POLE CLASSES FOR AGES 10+ NOW FORMING!
*Classes are taught by Perryville Elementary School art teacher, Chris Pagano
* $25 each day, from 9:30 a.m. to noon; limited to six children or adults per class.
*Dates posted coordinate with summer enrichment programs at school but I am open to alternate dates and times.
This art class will teach how to make a very unique quilt block with a hand-dyed front side and hand pieced back. Unique details will be added to the hand dyed side. A hand stitched yo-yo will also be taught.
Totem poles will be made of wood with heavy duty paper for wings. Since totem identities are limitless...invent and create a sculpture that will be a conversation piece forever. No carving. This art project is a winner with just colored pencils.
Supplies provided. Two day classes for quilt block are June 19,20,26,27 July 8,9,15,16 or totem pole: June 21,24,28 July 1,10,11,17,18. Students needing more time will be instructed on a make up day available June 25,July 2,12,30.
Crazy paper days are July 3, 5. We will do wet, dry techniques and produce hand lettering.
Call or email to sign up. Deadline: May 1, 2019. Need an alternate date or time? Please let me know a.s.a.p. Dates may be subject to change. Call or text (573) 382-3690 or email christianopagan@gmail.com
Past Dates & Times
Wednesday, June 19, 2019, 9:30 am - noon
Thursday, June 20, 2019, 9:30 am - noon
Friday, June 21, 2019, 9:30 am - noon
Monday, June 24, 2019, 9:30 am - noon
Tuesday, June 25, 2019, 9:30 am - noon
Wednesday, June 26, 2019, 9:30 am - noon
Thursday, June 27, 2019, 9:30 am - noon
Friday, June 28, 2019, 9:30 am - noon
Monday, July 1, 2019, 9:30 am - noon
Tuesday, July 2, 2019, 9:30 am - noon
Wednesday, July 3, 2019, 9:30 am - noon
Friday, July 5, 2019, 9:30 am - noon
Monday, July 8, 2019, 9:30 am - noon
Tuesday, July 9, 2019, 9:30 am - noon
Wednesday, July 10, 2019, 9:30 am - noon
Thursday, July 11, 2019, 9:30 am - noon
Friday, July 12, 2019, 9:30 am - noon
Monday, July 15, 2019, 9:30 am - noon
Tuesday, July 16, 2019, 9:30 am - noon
Wednesday, July 17, 2019, 9:30 am - noon
Thursday, July 18, 2019, 9:30 am - noon
Tuesday, July 30, 2019, 9:30 am - noon

Map
Next Level Art
736 Greensferry Rd., Jackson, Mo. 63755