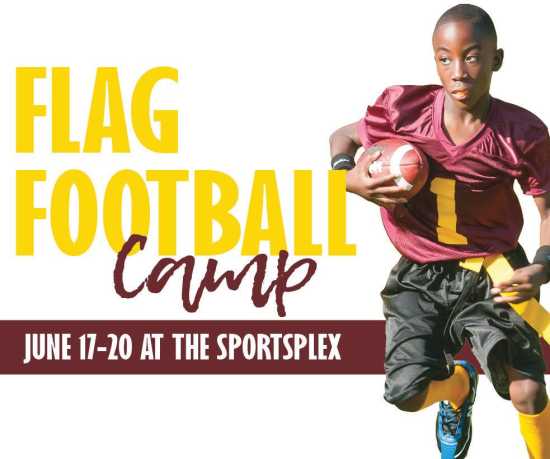 Past:

Youth Flag Football Camp
Cape Girardeau Sportsplex
This non-contact, four-day camp is designed for boys & girls ages 6-12 who want to gain confidence, make friends and increase their football skills. In addition to learning rules and strategies of playing flag football, we will teach proper techniques such as catching and throwing. We hope to instill the importance of leadership, teamwork and sportsmanship in our campers. Flags and flag belts provided. Each participant will receive a camp t-shirt.
This camp will be held from June 17 - 20 from 9:00 a.m. - 12:00 p.m. at the Cape Girardeau SportsPlex. The cost is $40 per child.
Sign up by June 9, 2019 at www.cityofcape.org/football.
Past Dates & Times
Monday, June 17, 2019, 9:00 am - noon
Tuesday, June 18, 2019, 9:00 am - noon
Wednesday, June 19, 2019, 9:00 am - noon
Thursday, June 20, 2019, 9:00 am - noon

Map
Cape Girardeau Sportsplex
2526 Jim Drury Way, Cape Girardeau, MO 63701