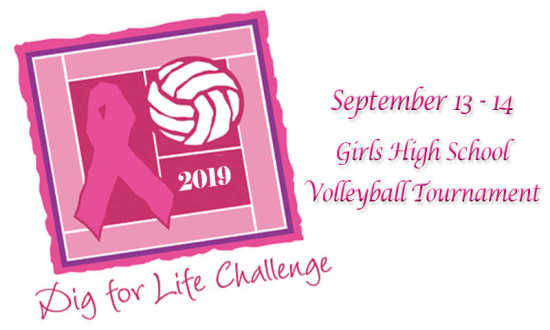 Past:

Saint Francis Health Dig for Life Challenge Volleyball Tourney
Show Me Center
The Show Me Center and Saint Francis Medical Center look forward to the Dig For Life Challenge on September 13th & 14th. The tournament will be held at multiple locations, The Show Me Center, the Student Rec Center - North and The Sport Plex, with teams vying for bragging rights while gaining valuable game experience.
Founded by former Southeast Missouri State University women's volleyball coach Cindy Gannon, and funded by corporate and private donors, Saint Francis' Dig for Life program provides mammograms to local women who otherwise could not afford this important screening. Since its beginning in 2000, Dig for Life has given nearly 2,000 free mammograms to women in the Southeast Missouri region.
FRIDAY GAMES BEGIN: 4:30 PM
SATURDAY GAMES BEGIN: 8:00 AM
ARMBAND PRICES:
Adult admission for Session one (Friday) --$5.00
Adult Admission for Session two (Saturday)-- $9.00
Tournament only admission (Saturday)--$5.00
H.S. students or younger--$4.00 per day.
Past Dates & Times
Friday, September 13, 2019, 4:30 pm - 10:00 pm
Saturday, September 14, 2019, 8:00 am - 10:00 pm

Map
Show Me Center
1333 N. Sprigg St., Cape Girardeau, MO