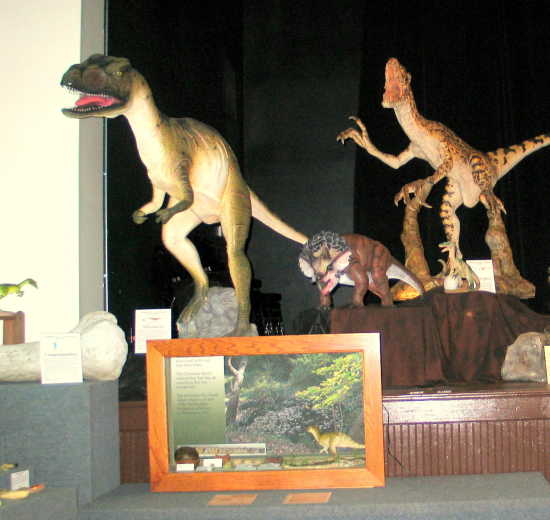 Past:

Dinosaur Herd
Bollinger County Museum of Natural History
Life size adult Raptor and baby raptor, Allosaurus, Triceratops, Compsognathus, and a baby Hadrosaur in the Missouri dinosaur discovery exhibit. Check out the real dinosaur bones in the accompanying exhibits.
Museum hours: Noon - 4:30 p.m.
Admission: Adults $5 and 17 years and under $2
The museum closes for inclement weather or hazardous road conditions.
In case of inclement weather please call ahead to verify museum is open.
Past Dates & Times
Thursday, August 1, 2019, Noon - 4:30 pm
Friday, August 2, 2019, Noon - 4:30 pm
Saturday, August 3, 2019, Noon - 4:30 pm
Sunday, August 4, 2019, Noon - 4:30 pm
Thursday, August 8, 2019, Noon - 4:30 pm
Friday, August 9, 2019, Noon - 4:30 pm
Saturday, August 10, 2019, Noon - 4:30 pm
Thursday, August 15, 2019, Noon - 4:30 pm
Friday, August 16, 2019, Noon - 4:30 pm
Saturday, August 17, 2019, Noon - 4:30 pm
Thursday, August 22, 2019, Noon - 4:30 pm
Friday, August 23, 2019, Noon - 4:30 pm
Saturday, August 24, 2019, Noon - 4:30 pm
Thursday, August 29, 2019, Noon - 4:30 pm
Friday, August 30, 2019, Noon - 4:30 pm
Saturday, August 31, 2019, Noon - 4:30 pm
Sunday, September 1, 2019, Noon - 4:30 pm
Thursday, September 5, 2019, Noon - 4:30 pm
Friday, September 6, 2019, Noon - 4:30 pm
Saturday, September 7, 2019, Noon - 4:30 pm
Thursday, September 12, 2019, Noon - 4:30 pm
Friday, September 13, 2019, Noon - 4:30 pm
Saturday, September 14, 2019, Noon - 4:30 pm
Thursday, September 19, 2019, Noon - 4:30 pm
Friday, September 20, 2019, Noon - 4:30 pm
Saturday, September 21, 2019, Noon - 4:30 pm
Thursday, September 26, 2019, Noon - 4:30 pm
Friday, September 27, 2019, Noon - 4:30 pm
Saturday, September 28, 2019, Noon - 4:30 pm
Thursday, October 3, 2019, Noon - 4:30 pm
Friday, October 4, 2019, Noon - 4:30 pm
Saturday, October 5, 2019, Noon - 4:30 pm
Sunday, October 6, 2019, Noon - 4:30 pm
Thursday, October 10, 2019, Noon - 4:30 pm
Friday, October 11, 2019, Noon - 4:30 pm
Saturday, October 12, 2019, Noon - 4:30 pm
Thursday, October 17, 2019, Noon - 4:30 pm
Friday, October 18, 2019, Noon - 4:30 pm
Saturday, October 19, 2019, Noon - 4:30 pm
Thursday, October 24, 2019, Noon - 4:30 pm
Friday, October 25, 2019, Noon - 4:30 pm
Saturday, October 26, 2019, Noon - 4:30 pm
Thursday, October 31, 2019, Noon - 4:30 pm
Friday, November 1, 2019, Noon - 4:30 pm
Saturday, November 2, 2019, Noon - 4:30 pm
Sunday, November 3, 2019, Noon - 4:30 pm
Thursday, November 7, 2019, Noon - 4:30 pm
Friday, November 8, 2019, Noon - 4:30 pm
Saturday, November 9, 2019, Noon - 4:30 pm
Thursday, November 14, 2019, Noon - 4:30 pm
Friday, November 15, 2019, Noon - 4:30 pm
Saturday, November 16, 2019, Noon - 4:30 pm
Thursday, November 21, 2019, Noon - 4:30 pm
Friday, November 22, 2019, Noon - 4:30 pm
Saturday, November 23, 2019, Noon - 4:30 pm
Friday, November 29, 2019, Noon - 4:30 pm
Saturday, November 30, 2019, Noon - 4:30 pm
Sunday, December 1, 2019, Noon - 4:30 pm
Thursday, December 5, 2019, Noon - 4:30 pm
Friday, December 6, 2019, Noon - 4:30 pm
Saturday, December 7, 2019, Noon - 4:30 pm
Thursday, December 12, 2019, Noon - 4:30 pm
Friday, December 13, 2019, Noon - 4:30 pm
Saturday, December 14, 2019, Noon - 4:30 pm
Thursday, December 19, 2019, Noon - 4:30 pm
Friday, December 20, 2019, Noon - 4:30 pm
Saturday, December 21, 2019, Noon - 4:30 pm
Thursday, December 26, 2019, Noon - 4:30 pm
Friday, December 27, 2019, Noon - 4:30 pm
Saturday, December 28, 2019, Noon - 4:30 pm
Thursday, January 2, 2020, Noon - 4:30 pm
Friday, January 3, 2020, Noon - 4:30 pm
Saturday, January 4, 2020, Noon - 4:30 pm
Sunday, January 5, 2020, Noon - 4:30 pm
Thursday, January 9, 2020, Noon - 4:30 pm
Friday, January 10, 2020, Noon - 4:30 pm
Saturday, January 11, 2020, Noon - 4:30 pm
Thursday, January 16, 2020, Noon - 4:30 pm
Friday, January 17, 2020, Noon - 4:30 pm
Saturday, January 18, 2020, Noon - 4:30 pm
Thursday, January 23, 2020, Noon - 4:30 pm
Friday, January 24, 2020, Noon - 4:30 pm
Saturday, January 25, 2020, Noon - 4:30 pm
Thursday, January 30, 2020, Noon - 4:30 pm
Friday, January 31, 2020, Noon - 4:30 pm
Saturday, February 1, 2020, Noon - 4:30 pm
Sunday, February 2, 2020, Noon - 4:30 pm
Thursday, February 6, 2020, Noon - 4:30 pm
Friday, February 7, 2020, Noon - 4:30 pm
Saturday, February 8, 2020, Noon - 4:30 pm
Thursday, February 13, 2020, Noon - 4:30 pm
Friday, February 14, 2020, Noon - 4:30 pm
Saturday, February 15, 2020, Noon - 4:30 pm
Thursday, February 20, 2020, Noon - 4:30 pm
Friday, February 21, 2020, Noon - 4:30 pm
Saturday, February 22, 2020, Noon - 4:30 pm
Thursday, February 27, 2020, Noon - 4:30 pm
Friday, February 28, 2020, Noon - 4:30 pm
Saturday, February 29, 2020, Noon - 4:30 pm
Sunday, March 1, 2020, Noon - 4:30 pm
Thursday, March 5, 2020, Noon - 4:30 pm
Friday, March 6, 2020, Noon - 4:30 pm
Saturday, March 7, 2020, Noon - 4:30 pm
Thursday, March 12, 2020, Noon - 4:30 pm
Friday, March 13, 2020, Noon - 4:30 pm
Saturday, March 14, 2020, Noon - 4:30 pm
Thursday, March 19, 2020, Noon - 4:30 pm
Friday, March 20, 2020, Noon - 4:30 pm
Saturday, March 21, 2020, Noon - 4:30 pm
Thursday, May 7, 2020, Noon - 4:30 pm
Friday, May 8, 2020, Noon - 4:30 pm
Saturday, May 9, 2020, Noon - 4:30 pm
Thursday, May 14, 2020, Noon - 4:30 pm
Friday, May 15, 2020, Noon - 4:30 pm
Saturday, May 16, 2020, Noon - 4:30 pm
Thursday, May 21, 2020, Noon - 4:30 pm
Friday, May 22, 2020, Noon - 4:30 pm
Saturday, May 23, 2020, Noon - 4:30 pm
Thursday, May 28, 2020, Noon - 4:30 pm
Friday, May 29, 2020, Noon - 4:30 pm
Saturday, May 30, 2020, Noon - 4:30 pm
Thursday, June 4, 2020, Noon - 4:30 pm
Friday, June 5, 2020, Noon - 4:30 pm
Saturday, June 6, 2020, Noon - 4:30 pm
Sunday, June 7, 2020, Noon - 4:30 pm
Thursday, June 11, 2020, Noon - 4:30 pm
Friday, June 12, 2020, Noon - 4:30 pm
Saturday, June 13, 2020, Noon - 4:30 pm
Thursday, June 18, 2020, Noon - 4:30 pm
Friday, June 19, 2020, Noon - 4:30 pm
Saturday, June 20, 2020, Noon - 4:30 pm
Thursday, June 25, 2020, Noon - 4:30 pm
Friday, June 26, 2020, Noon - 4:30 pm
Saturday, June 27, 2020, Noon - 4:30 pm
Thursday, July 2, 2020, Noon - 4:30 pm
Friday, July 3, 2020, Noon - 4:30 pm
Saturday, July 4, 2020, Noon - 4:30 pm
Sunday, July 5, 2020, Noon - 4:30 pm
Thursday, July 16, 2020, Noon - 4:30 pm
Friday, July 17, 2020, Noon - 4:30 pm
Saturday, July 18, 2020, Noon - 4:30 pm
Thursday, July 23, 2020, Noon - 4:30 pm
Friday, July 24, 2020, Noon - 4:30 pm
Saturday, July 25, 2020, Noon - 4:30 pm
Thursday, July 30, 2020, Noon - 4:30 pm
Friday, July 31, 2020, Noon - 4:30 pm
Saturday, August 1, 2020, Noon - 4:30 pm
Sunday, August 2, 2020, Noon - 4:30 pm
Thursday, August 6, 2020, Noon - 4:30 pm
Friday, August 7, 2020, Noon - 4:30 pm
Saturday, August 8, 2020, Noon - 4:30 pm
Thursday, August 13, 2020, Noon - 4:30 pm
Friday, August 14, 2020, Noon - 4:30 pm
Saturday, August 15, 2020, Noon - 4:30 pm
Thursday, August 20, 2020, Noon - 4:30 pm
Friday, August 21, 2020, Noon - 4:30 pm
Saturday, August 22, 2020, Noon - 4:30 pm
Thursday, August 27, 2020, Noon - 4:30 pm
Friday, August 28, 2020, Noon - 4:30 pm
Saturday, August 29, 2020, Noon - 4:30 pm
Thursday, September 3, 2020, Noon - 4:30 pm
Friday, September 4, 2020, Noon - 4:30 pm
Saturday, September 5, 2020, Noon - 4:30 pm
Sunday, September 6, 2020, Noon - 4:30 pm
Thursday, September 10, 2020, Noon - 4:30 pm
Friday, September 11, 2020, Noon - 4:30 pm
Saturday, September 12, 2020, Noon - 4:30 pm
Thursday, September 17, 2020, Noon - 4:30 pm
Friday, September 18, 2020, Noon - 4:30 pm
Saturday, September 19, 2020, Noon - 4:30 pm
Thursday, September 24, 2020, Noon - 4:30 pm
Friday, September 25, 2020, Noon - 4:30 pm
Saturday, September 26, 2020, Noon - 4:30 pm
Thursday, October 1, 2020, Noon - 4:30 pm
Friday, October 2, 2020, Noon - 4:30 pm
Saturday, October 3, 2020, Noon - 4:30 pm
Sunday, October 4, 2020, Noon - 4:30 pm
Thursday, October 8, 2020, Noon - 4:30 pm
Friday, October 9, 2020, Noon - 4:30 pm
Saturday, October 10, 2020, Noon - 4:30 pm
Thursday, October 15, 2020, Noon - 4:30 pm
Friday, October 16, 2020, Noon - 4:30 pm
Saturday, October 17, 2020, Noon - 4:30 pm
Thursday, October 22, 2020, Noon - 4:30 pm
Friday, October 23, 2020, Noon - 4:30 pm
Saturday, October 24, 2020, Noon - 4:30 pm
Thursday, October 29, 2020, Noon - 4:30 pm
Friday, October 30, 2020, Noon - 4:30 pm
Saturday, October 31, 2020, Noon - 4:30 pm
Sunday, November 1, 2020, Noon - 4:30 pm
Thursday, November 5, 2020, Noon - 4:30 pm
Friday, November 6, 2020, Noon - 4:30 pm
Saturday, November 7, 2020, Noon - 4:30 pm
Thursday, November 12, 2020, Noon - 4:30 pm
Friday, November 13, 2020, Noon - 4:30 pm
Saturday, November 14, 2020, Noon - 4:30 pm
Thursday, November 19, 2020, Noon - 4:30 pm
Friday, November 20, 2020, Noon - 4:30 pm
Saturday, November 21, 2020, Noon - 4:30 pm
Friday, November 27, 2020, Noon - 4:30 pm
Saturday, November 28, 2020, Noon - 4:30 pm
Thursday, December 3, 2020, Noon - 4:30 pm
Friday, December 4, 2020, Noon - 4:30 pm
Saturday, December 5, 2020, Noon - 4:30 pm
Sunday, December 6, 2020, Noon - 4:30 pm
Thursday, December 10, 2020, Noon - 4:30 pm
Friday, December 11, 2020, Noon - 4:30 pm
Saturday, December 12, 2020, Noon - 4:30 pm
Thursday, December 17, 2020, Noon - 4:30 pm
Friday, December 18, 2020, Noon - 4:30 pm
Saturday, December 19, 2020, Noon - 4:30 pm
Saturday, December 26, 2020, Noon - 4:30 pm
Saturday, January 2, 2021, Noon - 4:30 pm
Sunday, January 3, 2021, Noon - 4:30 pm
Thursday, January 7, 2021, Noon - 4:30 pm
Friday, January 8, 2021, Noon - 4:30 pm
Saturday, January 9, 2021, Noon - 4:30 pm
Thursday, January 14, 2021, Noon - 4:30 pm
Friday, January 15, 2021, Noon - 4:30 pm
Saturday, January 16, 2021, Noon - 4:30 pm
Thursday, January 21, 2021, Noon - 4:30 pm
Friday, January 22, 2021, Noon - 4:30 pm
Saturday, January 23, 2021, Noon - 4:30 pm
Thursday, January 28, 2021, Noon - 4:30 pm
Friday, January 29, 2021, Noon - 4:30 pm
Saturday, January 30, 2021, Noon - 4:30 pm
Thursday, February 4, 2021, Noon - 4:30 pm
Friday, February 5, 2021, Noon - 4:30 pm
Saturday, February 6, 2021, Noon - 4:30 pm
Thursday, February 11, 2021, Noon - 4:30 pm
Friday, February 12, 2021, Noon - 4:30 pm
Saturday, February 13, 2021, Noon - 4:30 pm
Thursday, February 18, 2021, Noon - 4:30 pm
Friday, February 19, 2021, Noon - 4:30 pm
Saturday, February 20, 2021, Noon - 4:30 pm
Thursday, February 25, 2021, Noon - 4:30 pm
Friday, February 26, 2021, Noon - 4:30 pm
Saturday, February 27, 2021, Noon - 4:30 pm
Thursday, March 4, 2021, Noon - 4:30 pm
Friday, March 5, 2021, Noon - 4:30 pm
Saturday, March 6, 2021, Noon - 4:30 pm
Sunday, March 7, 2021, Noon - 4:30 pm
Thursday, March 11, 2021, Noon - 4:30 pm
Friday, March 12, 2021, Noon - 4:30 pm
Saturday, March 13, 2021, Noon - 4:30 pm
Thursday, March 18, 2021, Noon - 4:30 pm
Friday, March 19, 2021, Noon - 4:30 pm
Saturday, March 20, 2021, Noon - 4:30 pm
Thursday, March 25, 2021, Noon - 4:30 pm
Friday, March 26, 2021, Noon - 4:30 pm
Saturday, March 27, 2021, Noon - 4:30 pm
Thursday, April 1, 2021, Noon - 4:30 pm
Friday, April 2, 2021, Noon - 4:30 pm
Saturday, April 3, 2021, Noon - 4:30 pm
Thursday, April 8, 2021, Noon - 4:30 pm
Friday, April 9, 2021, Noon - 4:30 pm
Saturday, April 10, 2021, Noon - 4:30 pm
Thursday, April 15, 2021, Noon - 4:30 pm
Friday, April 16, 2021, Noon - 4:30 pm
Saturday, April 17, 2021, Noon - 4:30 pm
Thursday, April 22, 2021, Noon - 4:30 pm
Friday, April 23, 2021, Noon - 4:30 pm
Saturday, April 24, 2021, Noon - 4:30 pm
Thursday, April 29, 2021, Noon - 4:30 pm
Friday, April 30, 2021, Noon - 4:30 pm
Saturday, May 1, 2021, Noon - 4:30 pm
Thursday, May 6, 2021, Noon - 4:30 pm
Friday, May 7, 2021, Noon - 4:30 pm
Saturday, May 8, 2021, Noon - 4:30 pm
Thursday, May 13, 2021, Noon - 4:30 pm
Friday, May 14, 2021, Noon - 4:30 pm
Saturday, May 15, 2021, Noon - 4:30 pm
Thursday, May 20, 2021, Noon - 4:30 pm
Friday, May 21, 2021, Noon - 4:30 pm
Saturday, May 22, 2021, Noon - 4:30 pm
Thursday, May 27, 2021, Noon - 4:30 pm
Friday, May 28, 2021, Noon - 4:30 pm
Saturday, May 29, 2021, Noon - 4:30 pm
Thursday, June 3, 2021, Noon - 4:30 pm
Friday, June 4, 2021, Noon - 4:30 pm
Saturday, June 5, 2021, Noon - 4:30 pm
Sunday, June 6, 2021, Noon - 4:30 pm
Thursday, June 10, 2021, Noon - 4:30 pm
Friday, June 11, 2021, Noon - 4:30 pm
Saturday, June 12, 2021, Noon - 4:30 pm
Thursday, June 17, 2021, Noon - 4:30 pm
Friday, June 18, 2021, Noon - 4:30 pm
Saturday, June 19, 2021, Noon - 4:30 pm
Thursday, June 24, 2021, Noon - 4:30 pm
Friday, June 25, 2021, Noon - 4:30 pm
Saturday, June 26, 2021, Noon - 4:30 pm
Thursday, July 1, 2021, Noon - 4:30 pm
Friday, July 2, 2021, Noon - 4:30 pm
Saturday, July 3, 2021, Noon - 4:30 pm
Sunday, July 4, 2021, Noon - 4:30 pm
Thursday, July 8, 2021, Noon - 4:30 pm
Friday, July 9, 2021, Noon - 4:30 pm
Saturday, July 10, 2021, Noon - 4:30 pm
Thursday, July 15, 2021, Noon - 4:30 pm
Friday, July 16, 2021, Noon - 4:30 pm
Saturday, July 17, 2021, Noon - 4:30 pm
Thursday, July 22, 2021, Noon - 4:30 pm
Friday, July 23, 2021, Noon - 4:30 pm
Saturday, July 24, 2021, Noon - 4:30 pm
Thursday, July 29, 2021, Noon - 4:30 pm
Friday, July 30, 2021, Noon - 4:30 pm
Saturday, July 31, 2021, Noon - 4:30 pm
Sunday, August 1, 2021, Noon - 4:30 pm
Thursday, August 5, 2021, Noon - 4:30 pm
Friday, August 6, 2021, Noon - 4:30 pm
Saturday, August 7, 2021, Noon - 4:30 pm
Thursday, August 12, 2021, Noon - 4:30 pm
Friday, August 13, 2021, Noon - 4:30 pm
Saturday, August 14, 2021, Noon - 4:30 pm
Thursday, August 19, 2021, Noon - 4:30 pm
Friday, August 20, 2021, Noon - 4:30 pm
Saturday, August 21, 2021, Noon - 4:30 pm
Thursday, August 26, 2021, Noon - 4:30 pm
Friday, August 27, 2021, Noon - 4:30 pm
Saturday, August 28, 2021, Noon - 4:30 pm
Thursday, September 2, 2021, Noon - 4:30 pm
Friday, September 3, 2021, Noon - 4:30 pm
Saturday, September 4, 2021, Noon - 4:30 pm
Sunday, September 5, 2021, Noon - 4:30 pm
Thursday, September 9, 2021, Noon - 4:30 pm
Friday, September 10, 2021, Noon - 4:30 pm
Saturday, September 11, 2021, Noon - 4:30 pm
Thursday, September 16, 2021, Noon - 4:30 pm
Friday, September 17, 2021, Noon - 4:30 pm
Saturday, September 18, 2021, Noon - 4:30 pm
Thursday, September 23, 2021, Noon - 4:30 pm
Friday, September 24, 2021, Noon - 4:30 pm
Saturday, September 25, 2021, Noon - 4:30 pm
Thursday, September 30, 2021, Noon - 4:30 pm
Friday, October 1, 2021, Noon - 4:30 pm
Saturday, October 2, 2021, Noon - 4:30 pm
Sunday, October 3, 2021, Noon - 4:30 pm
Thursday, October 7, 2021, Noon - 4:30 pm
Friday, October 8, 2021, Noon - 4:30 pm
Saturday, October 9, 2021, Noon - 4:30 pm
Thursday, October 14, 2021, Noon - 4:30 pm
Friday, October 15, 2021, Noon - 4:30 pm
Saturday, October 16, 2021, Noon - 4:30 pm
Thursday, October 21, 2021, Noon - 4:30 pm
Friday, October 22, 2021, Noon - 4:30 pm
Saturday, October 23, 2021, Noon - 4:30 pm
Thursday, October 28, 2021, Noon - 4:30 pm
Friday, October 29, 2021, Noon - 4:30 pm
Saturday, October 30, 2021, Noon - 4:30 pm
Thursday, November 4, 2021, Noon - 4:30 pm
Friday, November 5, 2021, Noon - 4:30 pm
Saturday, November 6, 2021, Noon - 4:30 pm
Sunday, November 7, 2021, Noon - 4:30 pm
Thursday, November 11, 2021, Noon - 4:30 pm
Friday, November 12, 2021, Noon - 4:30 pm
Saturday, November 13, 2021, Noon - 4:30 pm
Thursday, November 18, 2021, Noon - 4:30 pm
Friday, November 19, 2021, Noon - 4:30 pm
Saturday, November 20, 2021, Noon - 4:30 pm
Friday, November 26, 2021, Noon - 4:30 pm
Saturday, November 27, 2021, Noon - 4:30 pm
Thursday, December 2, 2021, Noon - 4:30 pm
Friday, December 3, 2021, Noon - 4:30 pm
Saturday, December 4, 2021, Noon - 4:30 pm
Sunday, December 5, 2021, Noon - 4:30 pm
Thursday, December 9, 2021, Noon - 4:30 pm
Friday, December 10, 2021, Noon - 4:30 pm
Saturday, December 11, 2021, Noon - 4:30 pm
Thursday, December 16, 2021, Noon - 4:30 pm
Friday, December 17, 2021, Noon - 4:30 pm
Saturday, December 18, 2021, Noon - 4:30 pm
Thursday, December 23, 2021, Noon - 4:30 pm
Thursday, December 30, 2021, Noon - 4:30 pm
Friday, December 31, 2021, Noon - 4:30 pm

Map
Bollinger County Museum of Natural History
209 Mayfield Dr., Marble Hill, MO