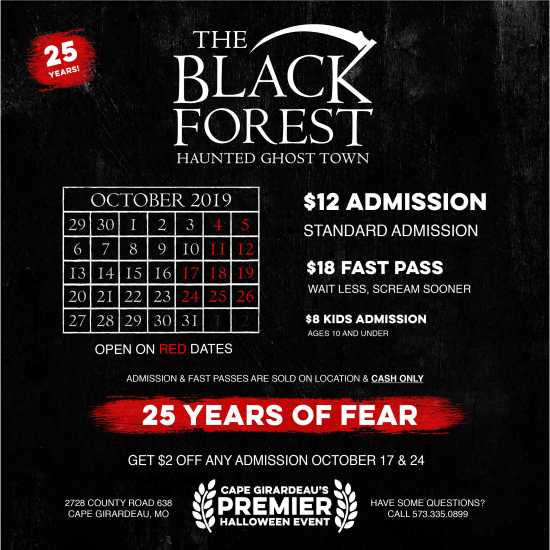 Past:

The Black Forest Haunted Ghost Town
Black Forest Villages
Are you ready to experience Cape Girardeau's PREMIER haunted attraction this October?
We've gone over the top and added BIGGER and BETTER scares than ever before!
Make sure to not miss the Black Forest this October. 👻
We're open every Friday and Saturday in October from 7:00-10:30 pm.
BONUS: Thursday dates on October 17th and 24th. $2 off any admission!
Admission is $12 for adults and $8 for kids 10 and under.
Fast passes will be available for $18 per person. Wait less, scream sooner!
Admission is on location and CASH ONLY.
Located at 2728 County Road 638 in Cape Girardeau, MO.
Scare you soon.
More information on our website: blackforesthaunt.com
Past Dates & Times
Friday, October 4, 2019, 7:00 pm - 10:30 pm
Saturday, October 5, 2019, 7:00 pm - 10:30 pm
Friday, October 11, 2019, 7:00 pm - 10:30 pm
Saturday, October 12, 2019, 7:00 pm - 10:30 pm
Thursday, October 17, 2019, 7:00 pm - 10:30 pm
Friday, October 18, 2019, 7:00 pm - 10:30 pm
Saturday, October 19, 2019, 7:00 pm - 10:30 pm
Thursday, October 24, 2019, 7:00 pm - 10:30 pm
Friday, October 25, 2019, 7:00 pm - 10:30 pm
Saturday, October 26, 2019, 7:00 pm - 10:30 pm

Map
Black Forest Villages
2728 County Rd. 638, Cape Girardeau, MO