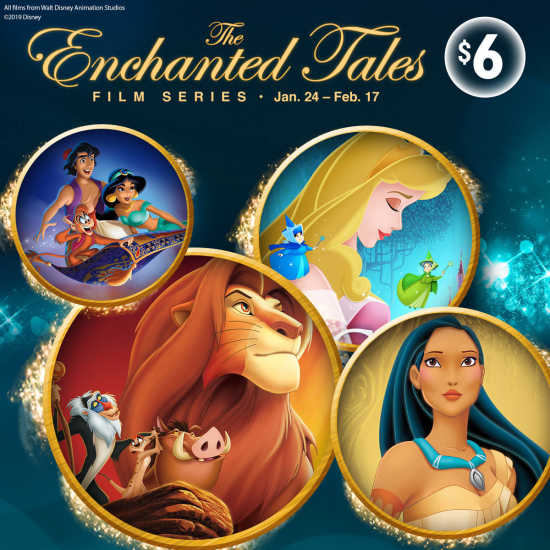 Past:

$6 Disney Classics at Marcus Theatres
Marcus Cape West Cinema
Relive the magic of classic Disney films during the Enchanted Tales Film Series at participating Marcus Theatres!
This seasonís line-up features a collection of favorites on Fridays, Saturdays and Sundays from January 24-February 17.
Admission is just $6 per person. Moviegoers of all ages will agree thereís something special about seeing these beloved films back on the big screen!
For the film schedule, participating locations and tickets, visit www.MarcusTheatres.com/EnchantedTales.
Past Dates & Times
Friday, January 24, 2020, 10:00 am - 6:00 pm
Saturday, January 25, 2020, 10:00 am - 6:00 pm
Sunday, January 26, 2020, 10:00 am - 6:00 pm
Friday, January 31, 2020, 10:00 am - 6:00 pm
Saturday, February 1, 2020, 10:00 am - 6:00 pm
Sunday, February 2, 2020, 10:00 am - 6:00 pm
Friday, February 7, 2020, 10:00 am - 6:00 pm
Saturday, February 8, 2020, 10:00 am - 6:00 pm
Sunday, February 9, 2020, 10:00 am - 6:00 pm
Friday, February 14, 2020, 10:00 am - 6:00 pm
Saturday, February 15, 2020, 10:00 am - 6:00 pm
Sunday, February 16, 2020, 10:00 am - 6:00 pm
Monday, February 17, 2020, 10:00 am - 6:00 pm

Map
Marcus Cape West Cinema
247 Siemers Dr, Cape Girardeau, MO 63701