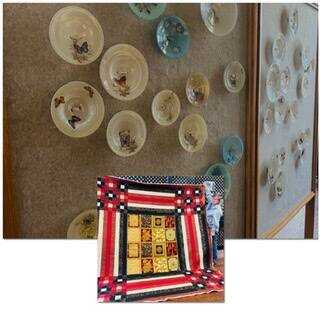 Past:

"Notions" Quilt & Glass Exhibit Opening at the History Center in Jackson, MO
Cape Girardeau County History Center
The Cape Girardeau County Historical Society is proud to announce "Notions"—an exhibit opening Tuesday, Oct. 13 at the History Center location, 102 S. High St., Jackson, MO.
The exhibit, "Notions," features the blown glass button sculptures of renowned artist, Nadine Saylor, and the quilts of Marilyn Brim.
Nadine Saylor is an instructor at Southern Illinois Univ., and a national award winning glass artist. Marilyn Brim is a Cape Girardeau County quilter, and she designs, pieces, and quilts her own works.
Join us, Monday-Saturday, 10:00 a.m.-4:00 p.m. for this beautiful and unique exhibit. Masks and social distancing are required.
For more information: 573-979-5170
Past Dates & Times
Tuesday, October 13, 2020, 10:00 am - 4:00 pm
Wednesday, October 14, 2020, 10:00 am - 4:00 pm
Thursday, October 15, 2020, 10:00 am - 4:00 pm
Friday, October 16, 2020, 10:00 am - 4:00 pm
Monday, October 19, 2020, 10:00 am - 4:00 pm
Tuesday, October 20, 2020, 10:00 am - 4:00 pm
Wednesday, October 21, 2020, 10:00 am - 4:00 pm
Thursday, October 22, 2020, 10:00 am - 4:00 pm
Friday, October 23, 2020, 10:00 am - 4:00 pm
Saturday, October 24, 2020, 10:00 am - 4:00 pm
Tuesday, October 27, 2020, 10:00 am - 4:00 pm
Wednesday, October 28, 2020, 10:00 am - 4:00 pm
Thursday, October 29, 2020, 10:00 am - 4:00 pm
Friday, October 30, 2020, 10:00 am - 4:00 pm
Saturday, October 31, 2020, 10:00 am - 4:00 pm
Monday, November 2, 2020, 10:00 am - 4:00 pm
Tuesday, November 3, 2020, 10:00 am - 4:00 pm
Wednesday, November 4, 2020, 10:00 am - 4:00 pm
Thursday, November 5, 2020, 10:00 am - 4:00 pm
Friday, November 6, 2020, 10:00 am - 4:00 pm
Saturday, November 7, 2020, 10:00 am - 4:00 pm

Map
Cape Girardeau County History Center
102 South High Street, Jackson, MO