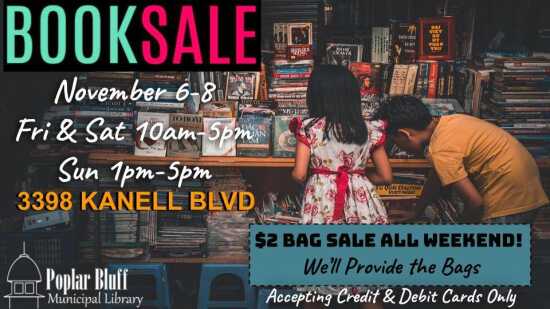 Past:

Poplar Bluff Library Book Sale
Poplar Bluff Municipal Library - Kanell Branch
Fall 2020 Used Book Sale
Friday-Sunday, Nov. 6-8, 2020
Thousands of books are priced to sell, including like-new hardcover bestsellers, popular authors, mass market paperback, nonfiction and science fiction, as well as older and collectible items. The sale includes audiobooks on CD, LP records, DVDs, art prints, westerns, and children's books.
Visit our website at poplarbluff.org for additional details and special days!
Cash, check and credit cards accepted.
Questions? Email us at library@poplarbluff.org.
Past Dates & Times
Friday, November 6, 2020, 10:00 am - 5:00 pm
Saturday, November 7, 2020, 10:00 am - 5:00 pm
Sunday, November 8, 2020, 1:00 pm - 5:00 pm

Map
Poplar Bluff Municipal Library - Kanell Branch
3398 Kanell Blvd.