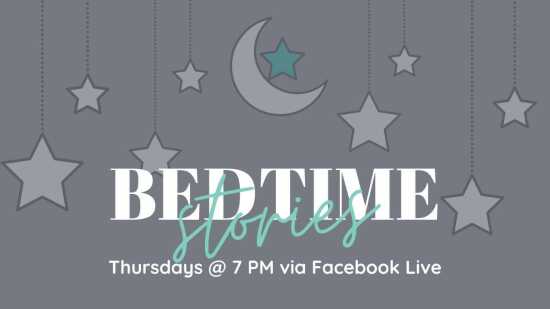 Virtual Bedtime Stories (all ages)
Thursday, December 8, 2022, 7:00 pm - 7:30 pm
Cape Girardeau Public Library
This online storytime, set at night, is presented to encourage families to try to make reading a part of their daily routine. Bedtime is a great place to start! Join us via Facebook Live for this virtual event.
Storytimes and early literacy programs at the library are supported by an Institute of Museum and Library Services grant administered by the Missouri State Library.
*This is a virtual event. Please join us at https://www.facebook.com/capelibrary/live for the fun!
Dates & Times
Thursday, December 8, 2022, 7:00 pm - 7:30 pm
Thursday, December 15, 2022, 7:00 pm - 7:30 pm
Thursday, December 22, 2022, 7:00 pm - 7:30 pm
Thursday, December 29, 2022, 7:00 pm - 7:30 pm
Thursday, January 5, 2023, 7:00 pm - 7:30 pm
Thursday, January 12, 2023, 7:00 pm - 7:30 pm
Thursday, January 19, 2023, 7:00 pm - 7:30 pm
Thursday, January 26, 2023, 7:00 pm - 7:30 pm

Map
Cape Girardeau Public Library
711 N. Clark St., Cape Girardeau, MO