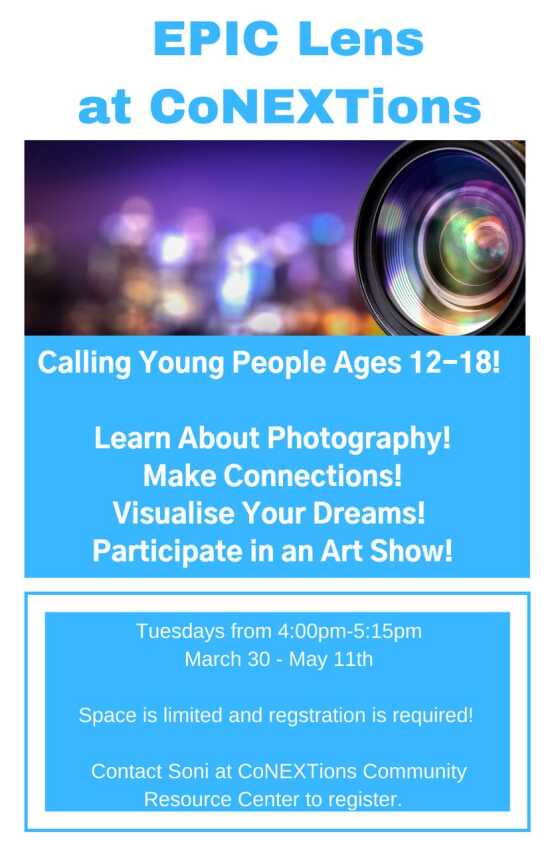 Past:

Epic Lens Program at Conextion (Afterschool Program)
Conextion Community Resource Center
It's that time again...! Afterschool programming is about to start! EPIC (Early Prevention Impacts Communities) has included Conextion Community Resource Center into their awesome amazing program called Lens. Lens is a photography class for youth (ages 12 to 18) who enjoy the art of capturing moments through photography.
Space is limited. Registration is required. To register follow the instructions on the flyer. The program will be facilitated by a SEMO Student volunteer. Participants of Lens is in store for a BIG surprise.
You don't want to miss this EPIC event. So you better get Conexted, before the spaces fill up.
Parental consent is needed for youth participants 17 and under. For more information, please call Conextion's business office at (573)803-1210. Call of reverse your spot.
Social distancing and mask is required.
Past Dates & Times
Tuesday, March 30, 2021, 4:00 pm - 5:30 pm
Tuesday, April 6, 2021, 4:00 pm - 5:00 pm
Tuesday, April 13, 2021, 4:00 pm - 5:30 pm
Tuesday, April 20, 2021, 4:00 pm - 5:30 pm
Tuesday, April 27, 2021, 4:00 pm - 5:30 pm
Tuesday, May 4, 2021, 4:00 pm - 5:30 pm
Tuesday, May 11, 2021, 4:00 pm - 5:30 pm

Map
Conextion Community Resource Center
402 S. Sprigg Street, Cape Girardeau, MO