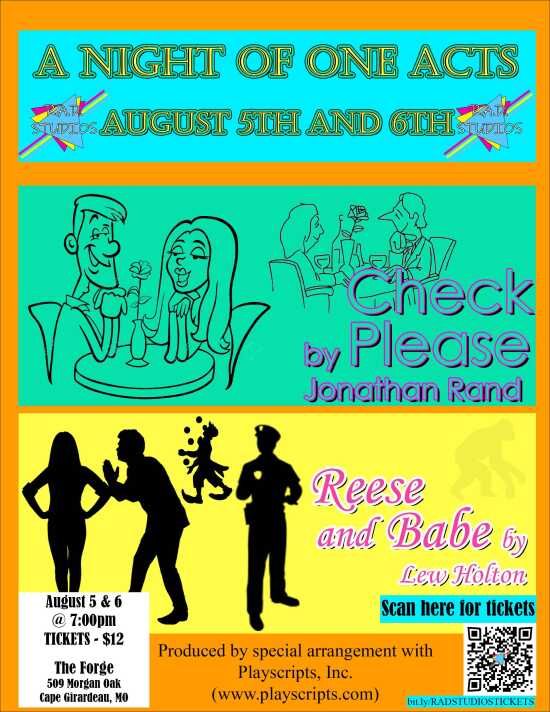 Past:

"A Night of One Acts" featuring "Check Please" and "Reese and Babe"
The Forge
****TICKETS ON SALE NOW***
**$12 - General Admission**
Join us as R.A.D. Studios Presents: "A Night of One Acts" on August 5th and 6th! Get your tickets now!
For tickets, go to:
http://bit.ly/RADSTUDIOSTICKETS
One Acts featured:
"Check Please" by Jonathan Rand
"Dating can be hard. Especially when your date happens to be a raging kleptomaniac or a mime. Check Please follows a series of blind dinner dates that couldn't get any worse -- until they do. Could there possibly be a light at the end of the tunnel?"
and
"Reese and Babe" by Lew Holton
"Reese has buried his wife Babe's classic 1965 Mustang in the back yard. Why? Suddenly, there's a clown at the front door, and the police are on the way. This could get ugly. Or just very, very funny."
Both shows are produced by special arrangement with Playscripts, Inc. (www.playscripts.com)
FOLLOW THE LINK ABOVE TO GET YOUR TICKETS TODAY! SEATING IS LIMITED!
Past Dates & Times
Thursday, August 5, 2021, 7:00 pm - 8:30 pm
Friday, August 6, 2021, 7:00 pm - 8:30 pm

Map
The Forge
509 Morgan Oak, Cape Girardeau, MO 63703