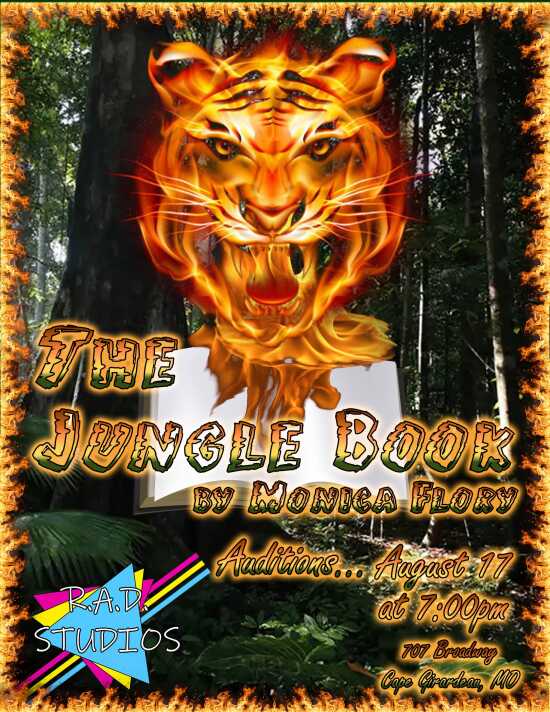 Past:

AUDITION ANNOUNCEMENT: "The Jungle Book" by Monica Flory
Fingerprint Dance Studio
*****AUDITION ANNOUNCEMENT*****
We will holding auditions for Monica Flory's "The Jungle Book."
Auditions will be in a group setting so everyone must arrive at 7:00pm. We will hold the auditions at 707 Broadway (parking in rear) in Cape Girardeau, MO. Open to all children ages 7-18 to cast in any role. Actors, ages 19+, may audition form limited adult roles: Father Wolf, Mother Wolf, Akela, and Messua.
Audition packets available early upon request. Message us for more details.
"The Jungle Book" by Monica Flory
"In this action-packed adaptation of the classic adventure story, precocious Mowgli grows up believing he's as fierce a wolf as any of the members of his pack. When he learns he is actually a human, he must discover how to reconcile these very different identities, and decide whether to remain with the pack, or return to the human world from which he was born. What will he choose? And will he be trained in the Law of the Jungle in time to defeat Shere Khan, the most feared animal of all?"
This production is produced by special arrangement with Playscripts, Inc. (www.playscripts.com)
Past Dates & Times
Tuesday, August 17, 2021, 7:00 pm - 8:30 pm

Map
Fingerprint Dance Studio
707 Broadway, cape girardeau