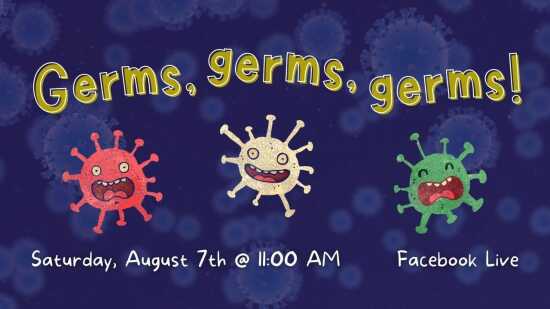 Past:

Germs, Germs, Germs! (ages 4-6)
Cape Girardeau Public Library
Ann Knight, nutrition educator from the University of Missouri Extension, will read "Pigs Make Me Sneeze" by Mo Willems.
Germs can make us sick, but washing hands properly can help get rid of germs! Ms. Knight will teach children proper handwashing techniques. University of MO Extension programs encourage healthy habits by emphasizing trying new foods with the USDA's Choose My Plate toolkit, as well as the importance of daily physical activity.
Join us via Facebook Live for this virtual event!
Past Dates & Times
Saturday, August 7, 2021, 11:00 am - 11:30 am

Map
Cape Girardeau Public Library
711 N. Clark St., Cape Girardeau, MO