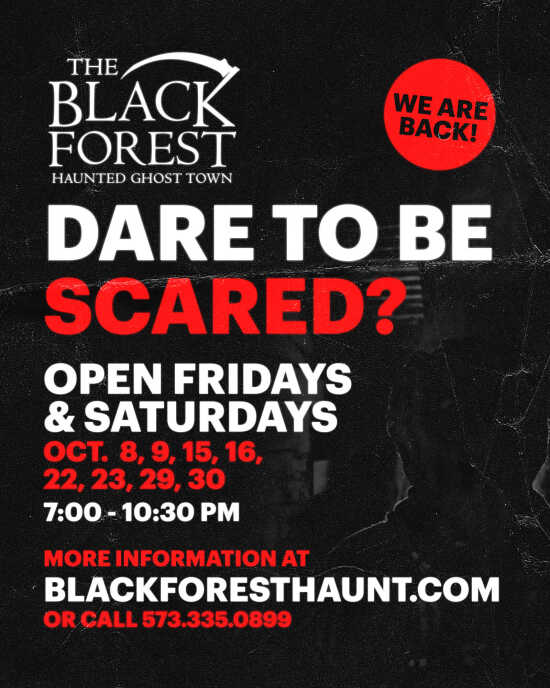 Past:

Black Forest Haunted Ghost Town
Black Forest Village
The Black Forest Haunted Ghost Town is BACK! 👻 Are you ready to experience Southeast Missouriís premier haunted house?
Located in the middle of the woods, the Black Forest features over 30 minutes of fear with elaborate scenes, terrifying detail, dizzying mazes, and 40+ actors ready to hear you scream.
👉 Open Fridays & Saturdays starting October 8th
👉 Admission is $15 for adults and $10 for kids 10 and under
👉 Fast pass admission is $22. Wait less, scream sooner!
All admission is on location and CASH ONLY. We are located just outside of Cape at 2728 County Road 638 Cape Girardeau, MO 63701
Scare you soon 🎃
Past Dates & Times
Friday, October 8, 2021, 7:00 pm - 10:30 pm
Saturday, October 9, 2021, 7:00 pm - 10:30 pm
Friday, October 15, 2021, 7:00 pm - 10:30 pm
Saturday, October 16, 2021, 7:00 pm - 10:30 pm
Friday, October 22, 2021, 7:00 pm - 10:30 pm
Saturday, October 23, 2021, 7:00 pm - 10:30 pm
Friday, October 29, 2021, 7:00 pm - 10:30 pm
Saturday, October 30, 2021, 7:00 pm - 10:30 pm

Map
Black Forest Village
2728 County Rd. 638, Cape Girardeau, MO