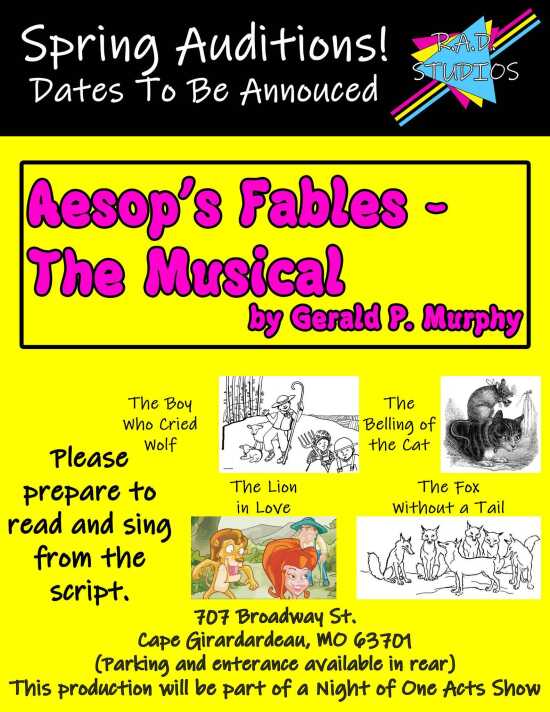 Past:

***AUDITION ANNOUNCE MENT*** Aesop's Fables - The Musical
R.A.D. Studios (Located within Fingerprint Urban Dance Studio)
***Audition Announcements***
*Aesop's Fables - The Musical*
January 25, 2022 at 7:00pm
707 Broadway St.
Cape Girardeau, MO 63701
(Enter in rear within Subway Parking Lot)
Our Spring Musical auditions will be January 25 at 7:00pm. You just need the willingness to read sides from the script, and we will learn a portion the opening song to the musical. This musical will be paired with a community Opera, Bastien and Bastienna, as "A Night of One Acts" event.
For those unfamiliar with these shows, these was our cancelled productions when the pandemic hit over a year ago. We are excited to bring these shows back to life for our community. If you or your friends have students interested in the technical aspect of production (lights, sound, costumes, etc.), the opera is offered a student tech show to provide experience and support to those that enjoy the behind-the-scenes aspect of a production.
If you have any questions, please email or message us.
Past Dates & Times
Tuesday, January 25, 2022, 7:00 pm - 8:30 pm

Map
R.A.D. Studios (Located within Fingerprint Urban Dance Studio)
707 Broadway, Cape Girardeau, MO