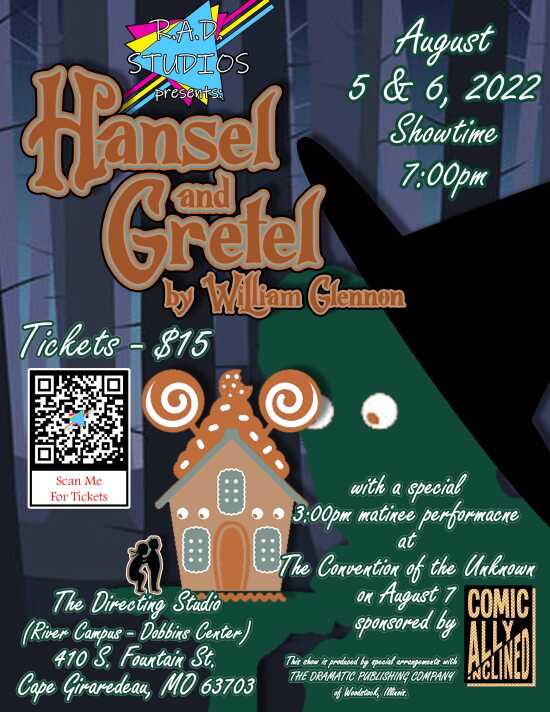 Past:

R.A.D. Studios presents: "Hansel and Gretel" by William Glennon
The Directing Studio
****TICKETS ON SALE NOW***
**$15 - General Admission**
Join us as R.A.D. Studios Presents: "Hansel and Gretel" on August 5th & 6th at 7:00pm! Get your tickets now!
For tickets, go to:
http://bit.ly/RADSTUDIOSTICKETS
"Hansel and Gretel" synopsis:
"In this story of Hansel and Gretel the white bird and the little gnome, under the spell of the wicked Witch, are forced to coax children away so that the wicked Witch can eat them. When the children's father returns home without food or money the whole family goes berry picking....."
Want to see how it ends? Come August 5 & 6 to the Directing Studios in the Dobbins Center at the River Campus!
Can't make it those day, joins for a special matinee brought to you by Comically Inclined during The Convention of the Unknown at the Drury Plaza Hotel.
This show is produced by special arrangements with THE DRAMATIC PUBLISHING COMPANY of Woodstock, Illinois.
FOLLOW THE LINK ABOVE TO GET YOUR TICKETS TODAY! SEATING IS LIMITED!
Past Dates & Times
Friday, August 5, 2022, 7:00 pm - 8:30 pm
Saturday, August 6, 2022, 7:00 pm - 8:30 pm
Sunday, August 7, 2022, 3:00 pm - 4:30 pm

Map
The Directing Studio
410 S. Fountain St, Cape Girardeau, MO 63701