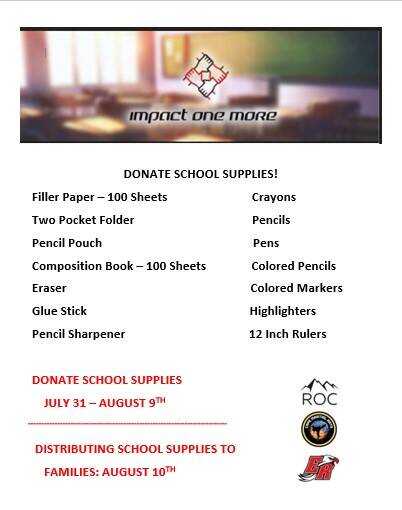 Past:

Impact One More
Cape Martial Arts
Join Rock of Cape Church and their mission "Impact One More" with the partnership of Eagle Ridge Christian School. We are going to impact students starting school year this Fall 2022. When a family is living paycheck to paycheck, children learn to make do with what they have, event if that means returning to school without the supplies they need to succeed.
But this year won't be that way. Because this year there's you and impact one more. It's not just about paper, pens, or binders. It's about giving the gift of opportunity in school and life that many children will not receive otherwise.
Sponsor a supplies kit: July 17-31
Donate school supplies: July 31-August 9
Distributing school supplies to in need families: August 10
Cape Martial Arts at 766 S Kingshighway in Cape Giradreau is accepting school supply donations for them. Any questions, call 573-381-0111.
Past Dates & Times
Sunday, July 31, 2022 (time TBA)
Monday, August 1, 2022 (time TBA)
Tuesday, August 2, 2022 (time TBA)
Wednesday, August 3, 2022 (time TBA)
Thursday, August 4, 2022 (time TBA)
Friday, August 5, 2022 (time TBA)
Saturday, August 6, 2022 (time TBA)
Sunday, August 7, 2022 (time TBA)
Monday, August 8, 2022 (time TBA)
Tuesday, August 9, 2022 (time TBA)

Map
Cape Martial Arts
766 S Kingshighway, Cape Giradreau, MO