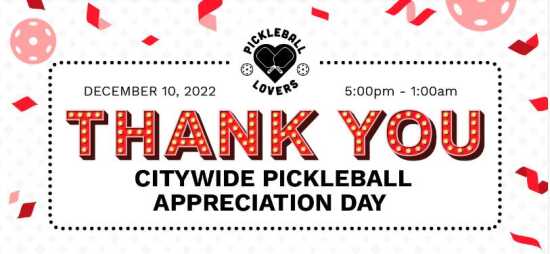 Past:

STL Citywide Pickleball Appreciation Day
Mandarin House
What a year it's been for pickleball in St. Louis. Join us for a special night of recognition and celebration for all who work tirelessly to make the STL region one of the best in the country.
On this special night we will recognize the ambassadors, 20 coaches, club owners, players, referees, tournament organizers, open-play group organizers, gear vendors and agents from across the region.
Awards will be given to those who helped to promote the sport and we will have a special ceremony to celebrate Jim Berger as he retires after years of hard work directing and running tournaments across the Midwest
Featuring! Food & Drink • Dancing • Live Music • Award ceremony Pickleball stories • Jokes • Community building • Photo slideshow by "Super" Dave Tedoni
Tickets sales will end December 3, act now! Visit STLPickleballDinner.eventbrite.com to buy tickets.
Contact
Past Dates & Times
Saturday, December 10, 2022, 5:00 pm - midnight