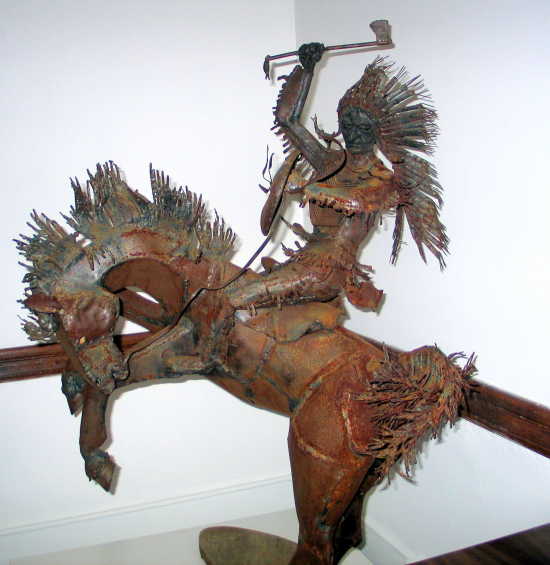 Past:

Tom Runnels art exhibit
Bollinger County Museum of Natural History
Tom Runnels art exhibit is now open at the Bollinger County Museum of Natural History in Marble Hill. Tom Runnels was a local artist, writer, and sculptor. Metal sculptures, paintings, and prints by Tom Runnels will be featured in this exhibit.
Visit the Bollinger County Museum of Natural History "Where the Past Springs to Life" See Dinosaur fossils and models, Civil War, Native American, Ice Age, regional history exhibits, discover & play area with children's fossil dig, dinosaur puzzles, and more fun activities.
Museum Hours: Thursday, Friday, and Saturday, Noon - 4:30 p.m.
Museum Location: 207 Mayfield Drive, Marble Hill, MO.
Admission to the museum: Adults $5 each and 17 years and under $2 each.
In case of inclement weather please call ahead to verify museum is open. The museum closes for inclement weather or if Woodland School is closed due to road conditions.
For more information call 573-238-1174 or email bcmnh@sbcglobal.net
Past Dates & Times
Friday, July 29, 2016, Noon - 4:30 pm
Saturday, July 30, 2016, Noon - 4:30 pm
Thursday, August 4, 2016, Noon - 4:30 pm
Friday, August 5, 2016, Noon - 4:30 pm
Saturday, August 6, 2016, Noon - 4:30 pm
Sunday, August 7, 2016, Noon - 4:30 pm
Thursday, August 11, 2016, Noon - 4:30 pm
Friday, August 12, 2016, Noon - 4:30 pm
Saturday, August 13, 2016, Noon - 4:30 pm
Thursday, August 18, 2016, Noon - 4:30 pm
Friday, August 19, 2016, Noon - 4:30 pm
Saturday, August 20, 2016, Noon - 4:30 pm
Thursday, August 25, 2016, Noon - 4:30 pm
Friday, August 26, 2016, Noon - 4:30 pm
Saturday, August 27, 2016, Noon - 4:30 pm
Saturday, October 1, 2016, Noon - 4:30 pm
Sunday, October 2, 2016, Noon - 4:30 pm
Thursday, October 6, 2016, Noon - 4:30 pm
Friday, October 7, 2016, Noon - 4:30 pm
Saturday, October 8, 2016, Noon - 4:30 pm
Thursday, October 13, 2016, Noon - 4:30 pm
Friday, October 14, 2016, Noon - 4:30 pm
Saturday, October 15, 2016, Noon - 4:30 pm
Thursday, October 20, 2016, Noon - 4:30 pm
Friday, October 21, 2016, Noon - 4:30 pm
Saturday, October 22, 2016, Noon - 4:30 pm
Thursday, October 27, 2016, Noon - 4:30 pm
Friday, October 28, 2016, Noon - 4:30 pm
Saturday, October 29, 2016, Noon - 4:30 pm
Thursday, November 3, 2016, Noon - 4:30 pm
Friday, November 4, 2016, Noon - 4:30 pm
Saturday, November 5, 2016, Noon - 4:30 pm
Sunday, November 6, 2016, Noon - 4:30 pm
Thursday, November 10, 2016, Noon - 4:30 pm
Friday, November 11, 2016, Noon - 4:30 pm
Saturday, November 12, 2016, Noon - 4:30 pm
Thursday, November 17, 2016, Noon - 4:30 pm
Friday, November 18, 2016, Noon - 4:30 pm
Saturday, November 19, 2016, Noon - 4:30 pm
Friday, November 25, 2016, Noon - 4:30 pm
Saturday, November 26, 2016, Noon - 4:30 pm
Thursday, December 1, 2016, Noon - 4:30 pm
Friday, December 2, 2016, Noon - 4:30 pm
Saturday, December 3, 2016, Noon - 4:30 pm
Sunday, December 4, 2016, Noon - 4:30 pm
Thursday, December 8, 2016, Noon - 4:30 pm
Friday, December 9, 2016, Noon - 4:30 pm
Saturday, December 10, 2016, Noon - 4:30 pm
Thursday, December 15, 2016, Noon - 4:30 pm
Friday, December 16, 2016, Noon - 4:30 pm
Saturday, December 17, 2016, Noon - 4:30 pm
Thursday, December 22, 2016, Noon - 4:30 pm
Friday, December 23, 2016, Noon - 4:30 pm
Saturday, December 24, 2016, Noon - 3:00 pm
Thursday, December 29, 2016, Noon - 4:30 pm
Friday, December 30, 2016, Noon - 4:30 pm
Saturday, December 31, 2016, Noon - 4:30 pm
Sunday, January 1, 2017, Noon - 4:30 pm
Thursday, January 5, 2017, Noon - 4:30 pm
Friday, January 6, 2017, Noon - 4:30 pm
Saturday, January 7, 2017, Noon - 4:30 pm
Thursday, January 12, 2017, Noon - 4:30 pm
Friday, January 13, 2017, Noon - 4:30 pm
Saturday, January 14, 2017, Noon - 4:30 pm
Thursday, January 19, 2017, Noon - 4:30 pm
Friday, January 20, 2017, Noon - 4:30 pm
Saturday, January 21, 2017, Noon - 4:30 pm
Thursday, January 26, 2017, Noon - 4:30 pm
Friday, January 27, 2017, Noon - 4:30 pm
Saturday, January 28, 2017, Noon - 4:30 pm
Thursday, February 2, 2017, Noon - 4:30 pm
Friday, February 3, 2017, Noon - 4:30 pm
Saturday, February 4, 2017, Noon - 4:30 pm
Sunday, February 5, 2017, Noon - 4:30 pm
Thursday, February 9, 2017, Noon - 4:30 pm
Friday, February 10, 2017, Noon - 4:30 pm
Saturday, February 11, 2017, Noon - 4:30 pm
Thursday, February 16, 2017, Noon - 4:30 pm
Friday, February 17, 2017, Noon - 4:30 pm
Saturday, February 18, 2017, Noon - 4:30 pm
Thursday, February 23, 2017, Noon - 4:30 pm
Friday, February 24, 2017, Noon - 4:30 pm
Saturday, February 25, 2017, Noon - 4:30 pm
Thursday, March 2, 2017, Noon - 4:30 pm
Friday, March 3, 2017, Noon - 4:30 pm
Saturday, March 4, 2017, Noon - 4:30 pm
Sunday, March 5, 2017, Noon - 4:30 pm
Thursday, March 9, 2017, Noon - 4:30 pm
Friday, March 10, 2017, Noon - 4:30 pm
Saturday, March 11, 2017, Noon - 4:30 pm
Thursday, March 16, 2017, Noon - 4:30 pm
Friday, March 17, 2017, Noon - 4:30 pm
Saturday, March 18, 2017, Noon - 4:30 pm
Thursday, March 23, 2017, Noon - 4:30 pm
Friday, March 24, 2017, Noon - 4:30 pm
Saturday, March 25, 2017, Noon - 4:30 pm
Thursday, March 30, 2017, Noon - 4:30 pm
Friday, March 31, 2017, Noon - 4:30 pm
Saturday, April 1, 2017, Noon - 4:30 pm
Sunday, April 2, 2017, Noon - 4:30 pm
Thursday, April 6, 2017, Noon - 4:30 pm
Friday, April 7, 2017, Noon - 4:30 pm
Saturday, April 8, 2017, Noon - 4:30 pm
Thursday, April 13, 2017, Noon - 4:30 pm
Friday, April 14, 2017, Noon - 4:30 pm
Saturday, April 15, 2017, Noon - 4:30 pm
Thursday, April 20, 2017, Noon - 4:30 pm
Friday, April 21, 2017, Noon - 4:30 pm
Saturday, April 22, 2017, Noon - 4:30 pm
Sunday, April 23, 2017, Noon - 4:30 pm
Thursday, April 27, 2017, Noon - 4:30 pm
Friday, April 28, 2017, Noon - 4:30 pm
Saturday, April 29, 2017, Noon - 4:30 pm
Thursday, May 4, 2017, Noon - 4:30 pm
Friday, May 5, 2017, Noon - 4:30 pm
Saturday, May 6, 2017, Noon - 4:30 pm
Sunday, May 7, 2017, Noon - 4:30 pm
Thursday, May 11, 2017, Noon - 4:30 pm
Friday, May 12, 2017, Noon - 4:30 pm
Saturday, May 13, 2017, Noon - 4:30 pm
Thursday, June 1, 2017, Noon - 4:30 pm
Friday, June 2, 2017, Noon - 4:30 pm
Saturday, June 3, 2017, Noon - 4:30 pm
Sunday, June 4, 2017, Noon - 4:30 pm
Thursday, June 8, 2017, Noon - 4:30 pm
Friday, June 9, 2017, Noon - 4:30 pm
Saturday, June 10, 2017, Noon - 4:30 pm
Thursday, June 15, 2017, Noon - 4:30 pm
Friday, June 16, 2017, Noon - 4:30 pm
Saturday, June 17, 2017, Noon - 4:30 pm
Thursday, June 22, 2017, Noon - 4:30 pm
Friday, June 23, 2017, Noon - 4:30 pm
Saturday, June 24, 2017, Noon - 4:30 pm
Thursday, June 29, 2017, Noon - 4:30 pm
Friday, June 30, 2017, Noon - 4:30 pm
Saturday, July 1, 2017, Noon - 4:30 pm
Sunday, July 2, 2017, Noon - 4:30 pm
Thursday, July 6, 2017, Noon - 4:30 pm
Friday, July 7, 2017, Noon - 4:30 pm
Saturday, July 8, 2017, Noon - 4:30 pm
Thursday, July 13, 2017, Noon - 4:30 pm
Friday, July 14, 2017, Noon - 4:30 pm
Saturday, July 15, 2017, Noon - 4:30 pm
Thursday, July 20, 2017, Noon - 4:30 pm
Friday, July 21, 2017, Noon - 4:30 pm
Saturday, July 22, 2017, Noon - 4:30 pm
Thursday, July 27, 2017, Noon - 4:30 pm
Friday, July 28, 2017, Noon - 4:30 pm
Saturday, July 29, 2017, Noon - 4:30 pm
Thursday, August 3, 2017, Noon - 4:30 pm
Friday, August 4, 2017, Noon - 4:30 pm
Saturday, August 5, 2017, Noon - 4:30 pm
Thursday, August 10, 2017, Noon - 4:30 pm
Friday, August 11, 2017, Noon - 4:30 pm
Saturday, August 12, 2017, Noon - 4:30 pm
Thursday, August 17, 2017, Noon - 4:30 pm
Friday, August 18, 2017, Noon - 4:30 pm
Saturday, August 19, 2017, Noon - 4:30 pm
Thursday, August 24, 2017, Noon - 4:30 pm
Friday, August 25, 2017, Noon - 4:30 pm
Saturday, August 26, 2017, Noon - 4:30 pm
Thursday, August 31, 2017, Noon - 4:30 pm
Friday, September 1, 2017, Noon - 4:30 pm
Saturday, September 2, 2017, Noon - 4:30 pm
Sunday, September 3, 2017, Noon - 4:30 pm
Thursday, September 7, 2017, Noon - 4:30 pm
Friday, September 8, 2017, Noon - 4:30 pm
Saturday, September 9, 2017, Noon - 4:30 pm
Thursday, September 14, 2017, Noon - 4:30 pm
Friday, September 15, 2017, Noon - 4:30 pm
Saturday, September 16, 2017, Noon - 4:30 pm
Thursday, September 21, 2017, Noon - 4:30 pm
Friday, September 22, 2017, Noon - 4:30 pm
Saturday, September 23, 2017, Noon - 4:30 pm
Sunday, September 24, 2017, Noon - 4:30 pm
Thursday, September 28, 2017, Noon - 4:30 pm
Friday, September 29, 2017, Noon - 4:30 pm
Saturday, September 30, 2017, Noon - 4:30 pm
Sunday, October 1, 2017, Noon - 4:30 pm
Thursday, October 5, 2017, Noon - 4:30 pm
Friday, October 6, 2017, Noon - 4:30 pm
Saturday, October 7, 2017, Noon - 4:30 pm
Thursday, October 12, 2017, Noon - 4:30 pm
Friday, October 13, 2017, Noon - 4:30 pm
Saturday, October 14, 2017, Noon - 4:30 pm
Thursday, October 19, 2017, Noon - 4:30 pm
Friday, October 20, 2017, Noon - 4:30 pm
Saturday, October 21, 2017, Noon - 4:30 pm
Thursday, October 26, 2017, Noon - 4:30 pm
Friday, October 27, 2017, Noon - 4:30 pm
Saturday, October 28, 2017, Noon - 4:30 pm
Thursday, November 2, 2017, Noon - 4:30 pm
Friday, November 3, 2017, Noon - 4:30 pm
Saturday, November 4, 2017, Noon - 4:30 pm
Sunday, November 5, 2017, Noon - 4:30 pm
Thursday, November 9, 2017, Noon - 4:30 pm
Friday, November 10, 2017, Noon - 4:30 pm
Saturday, November 11, 2017, Noon - 4:30 pm
Thursday, November 16, 2017, Noon - 4:30 pm
Friday, November 17, 2017, Noon - 4:30 pm
Saturday, November 18, 2017, Noon - 4:30 pm
Friday, November 24, 2017, Noon - 4:30 pm
Saturday, November 25, 2017, Noon - 4:30 pm
Thursday, November 30, 2017, Noon - 4:30 pm
Friday, December 1, 2017, Noon - 4:30 pm
Saturday, December 2, 2017, Noon - 4:30 pm
Sunday, December 3, 2017, Noon - 4:30 pm
Thursday, December 7, 2017, Noon - 4:30 pm
Friday, December 8, 2017, Noon - 4:30 pm
Saturday, December 9, 2017, Noon - 4:30 pm
Thursday, December 14, 2017, Noon - 4:30 pm
Friday, December 15, 2017, Noon - 4:30 pm
Saturday, December 16, 2017, Noon - 4:30 pm
Thursday, December 21, 2017, Noon - 4:30 pm
Friday, December 22, 2017, Noon - 4:30 pm
Saturday, December 23, 2017, Noon - 4:30 pm
Thursday, December 28, 2017, Noon - 4:30 pm
Friday, December 29, 2017, Noon - 4:30 pm
Saturday, December 30, 2017, Noon - 4:30 pm
Thursday, January 4, 2018, Noon - 4:30 pm
Friday, January 5, 2018, Noon - 4:30 pm
Saturday, January 6, 2018, Noon - 4:30 pm
Sunday, January 7, 2018, Noon - 4:30 pm
Saturday, April 28, 2018, 10:00 am - 5:00 pm
Sunday, April 29, 2018, Noon - 4:30 pm
Thursday, May 3, 2018, Noon - 4:30 pm
Friday, May 4, 2018, Noon - 4:30 pm
Saturday, May 5, 2018, Noon - 4:30 pm
Sunday, May 6, 2018, Noon - 4:30 pm
Thursday, May 10, 2018, Noon - 4:30 pm
Friday, May 11, 2018, Noon - 4:30 pm
Saturday, May 12, 2018, Noon - 4:30 pm
Thursday, May 17, 2018, Noon - 4:30 pm
Friday, May 18, 2018, Noon - 4:30 pm
Saturday, May 19, 2018, Noon - 4:30 pm
Thursday, May 24, 2018, Noon - 4:30 pm
Friday, May 25, 2018, Noon - 4:30 pm
Saturday, May 26, 2018, Noon - 4:30 pm
Thursday, May 31, 2018, Noon - 4:30 pm
Friday, June 1, 2018, Noon - 4:30 pm
Saturday, June 2, 2018, Noon - 4:30 pm
Sunday, June 3, 2018, Noon - 4:30 pm
Thursday, June 7, 2018, Noon - 4:30 pm
Friday, June 8, 2018, Noon - 4:30 pm
Saturday, June 9, 2018, Noon - 4:30 pm
Thursday, June 14, 2018, Noon - 4:30 pm
Friday, June 15, 2018, Noon - 4:30 pm
Saturday, June 16, 2018, Noon - 4:30 pm
Thursday, June 21, 2018, Noon - 4:30 pm
Friday, June 22, 2018, Noon - 4:30 pm
Saturday, June 23, 2018, Noon - 4:30 pm
Thursday, June 28, 2018, Noon - 4:30 pm
Friday, June 29, 2018, Noon - 4:30 pm
Saturday, June 30, 2018, Noon - 4:30 pm
Sunday, July 1, 2018, Noon - 4:30 pm
Thursday, July 5, 2018, Noon - 4:30 pm
Friday, July 6, 2018, Noon - 4:30 pm
Saturday, July 7, 2018, Noon - 4:30 pm
Thursday, July 12, 2018, Noon - 4:30 pm
Friday, July 13, 2018, Noon - 4:30 pm
Saturday, July 14, 2018, Noon - 4:30 pm
Thursday, July 19, 2018, Noon - 4:30 pm
Friday, July 20, 2018, Noon - 4:30 pm
Saturday, July 21, 2018, Noon - 4:30 pm
Thursday, July 26, 2018, Noon - 4:30 pm
Friday, July 27, 2018, Noon - 4:30 pm
Saturday, July 28, 2018, Noon - 4:30 pm
Thursday, August 2, 2018, Noon - 4:30 pm
Friday, August 3, 2018, Noon - 4:30 pm
Saturday, August 4, 2018, Noon - 4:30 pm
Sunday, August 5, 2018, Noon - 4:30 pm
Thursday, August 23, 2018, Noon - 4:30 pm
Friday, August 24, 2018, Noon - 4:30 pm
Saturday, August 25, 2018, Noon - 4:30 pm
Thursday, August 30, 2018, Noon - 4:30 pm
Friday, August 31, 2018, Noon - 4:30 pm
Saturday, September 1, 2018, Noon - 4:30 pm
Sunday, September 2, 2018, Noon - 4:30 pm
Thursday, September 6, 2018, Noon - 4:30 pm
Friday, September 7, 2018, Noon - 4:30 pm
Saturday, September 8, 2018, Noon - 4:30 pm
Thursday, September 13, 2018, Noon - 4:30 pm
Friday, September 14, 2018, Noon - 4:30 pm
Saturday, September 15, 2018, Noon - 4:30 pm
Thursday, September 20, 2018, Noon - 4:30 pm
Friday, September 21, 2018, Noon - 4:30 pm
Saturday, September 22, 2018, Noon - 4:30 pm
Thursday, September 27, 2018, Noon - 4:30 pm
Friday, September 28, 2018, Noon - 4:30 pm
Saturday, September 29, 2018, Noon - 4:30 pm
Sunday, September 30, 2018, Noon - 4:30 pm
Thursday, October 4, 2018, Noon - 4:30 pm
Friday, October 5, 2018, Noon - 4:30 pm
Saturday, October 6, 2018, Noon - 4:30 pm
Sunday, October 7, 2018, Noon - 4:30 pm
Thursday, October 11, 2018, Noon - 4:30 pm
Friday, October 12, 2018, Noon - 4:30 pm
Saturday, October 13, 2018, Noon - 4:30 pm
Thursday, October 18, 2018, Noon - 4:30 pm
Friday, October 19, 2018, Noon - 4:30 pm
Saturday, October 20, 2018, Noon - 4:30 pm
Thursday, October 25, 2018, Noon - 4:30 pm
Friday, October 26, 2018, Noon - 4:30 pm
Saturday, October 27, 2018, Noon - 4:30 pm
Thursday, November 1, 2018, Noon - 4:30 pm
Friday, November 2, 2018, Noon - 4:30 pm
Saturday, November 3, 2018, Noon - 4:30 pm
Sunday, November 4, 2018, Noon - 4:30 pm
Thursday, November 8, 2018, Noon - 4:30 pm
Friday, November 9, 2018, Noon - 4:30 pm
Saturday, November 10, 2018, Noon - 4:30 pm
Thursday, November 15, 2018, Noon - 4:30 pm
Friday, November 16, 2018, Noon - 4:30 pm
Saturday, November 17, 2018, Noon - 4:30 pm
Friday, November 23, 2018, Noon - 4:30 pm
Saturday, November 24, 2018, Noon - 4:30 pm
Thursday, November 29, 2018, Noon - 4:30 pm
Friday, November 30, 2018, Noon - 4:30 pm
Saturday, December 1, 2018, Noon - 4:30 pm
Sunday, December 2, 2018, Noon - 4:30 pm
Thursday, December 6, 2018, Noon - 4:30 pm
Friday, December 7, 2018, Noon - 4:30 pm
Saturday, December 8, 2018, Noon - 4:30 pm
Thursday, December 13, 2018, Noon - 4:30 pm
Friday, December 14, 2018, Noon - 4:30 pm
Saturday, December 15, 2018, Noon - 4:30 pm
Thursday, December 20, 2018, Noon - 4:30 pm
Friday, December 21, 2018, Noon - 4:30 pm
Saturday, December 22, 2018, Noon - 4:30 pm
Thursday, December 27, 2018, Noon - 4:30 pm
Friday, December 28, 2018, Noon - 4:30 pm
Saturday, December 29, 2018, Noon - 4:30 pm

Map
Bollinger County Museum of Natural History
207 Mayfield Dr., Marble Hill, MO