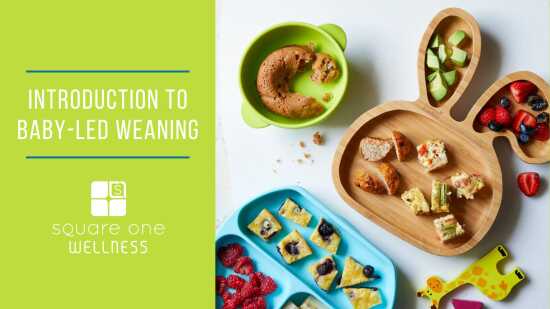 Introduction to Baby-Led Weaning
Saturday, April 15, 2023, 8:30 am - 10:00 am
Rooted Web
The Introduction to Baby-Led Weaning course will share the basics behind the Baby-Led Weaning (BLW) philosophy and help you decide if it is right for your family. The purpose of Baby-Led Weaning is to assess when infants are developmentally ready (usually around six months), and then encourage self-feeding of whole, nutritious foods – skipping the purees and traditional "baby food" or using only when necessary.
The ultimate goal is to foster healthy eating habits from square one and allow babies to eat and enjoy whole foods. This course is open to everyone: expecting parents, new parents, grandparents, godparents, aunts/uncles, caregivers, child-care providers or medical professionals who want learn how to complement an infant's current diet of breastmilk or formula to include real, whole, nutritious and delicious food (when developmentally ready).
This course combines concepts of the Baby Led Weaning method with sound nutrition information from the Academy of Nutrition and Dietetics and encourages self-feeding of the infant and patience and support from the family. Taught by a registered dietitian and BLW mother, this class provides families with the resources to successfully support self-feeding whenever baby is developmentally ready.
Educational materials supplied; just bring note-taking materials.
At the First Food Workshop, you will learn:
What is Baby-Led Weaning (BLW)?
What are the benefits of BLW?
How do I know when my baby is ready start solids?
How do I start BLW?
What foods can my baby safely eat?
How to understand the unique nutritional needs of your baby
Your role as a parent in helping a child learn to eat
How to identify gagging verses choking
Education provided in a relaxed atmosphere where you: Feel comfortable asking questions, can share experiences with other new parents, discover a variety of tools to help you get started and leave with confidence to begin BLW
Who can attend this workshop? Registration includes up to two adults - must be primary caregivers of child. Highly recommend that both parents/caregivers attend, if possible.
Dates & Times
Saturday, April 15, 2023, 8:30 am - 10:00 am
Saturday, May 20, 2023, 8:30 am - 10:00 am

Map
Rooted Web
2530 Marsha Kay. Cape Girardeau, MO 63701.