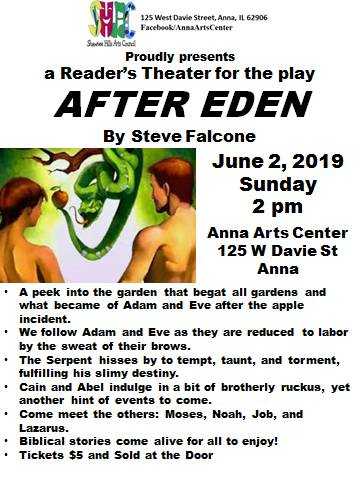 Past:

Readerís Theater for the play
Anna Arts Center
AFTER EDEN By Steve Falcone is a peek into the garden that begat all gardens and what became of Adam and Eve after the apple incident.
We follow Adam and Eve as they are reduced to labor by the sweat of their brows.
The Serpent hisses by to tempt, taunt, and torment, fulfilling his slimy destiny.
Cain and Abel indulge in a bit of brotherly ruckus, yet another hint of events to come.
Come meet the others: Moses, Noah, Job, and Lazarus.
Biblical stories come alive for all to enjoy!
Tickets $5 and Sold at the Door
Past Dates & Times
Sunday, June 2, 2019, 2:00 pm

Map
Anna Arts Center
125 West Davie St., Anna, IL 62906