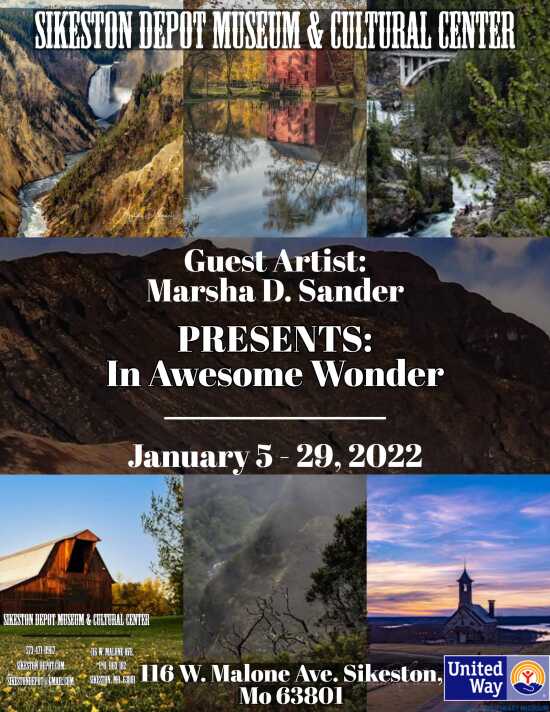 Past:

Guest Artist: Marsha D. Sander Presents: In Awesome Wonder
Sikeston Depot Museum & Cultural Center
IN AWESOME WONDER
Since 2016, Marsha Dement Sander Photography in Grace has embraced the JOY of capturing Godís gifts of Grace and Creation. With the past two years of COVID, lockdowns, isolations and unsettling changes around us, Godís Creation has offered solitude and peace which passes beyond our understanding. HIS peace leads Sanderís eye and camera to focus on HIS pristine landscapes, mystery, wildlife, sunrises, and sunsets. By the Grace of God, she spotlights the perfection of HIS majestic creations and beauty in each frame. The exhibit displays Godís Creations found on the beaches of Hawaii, the Rocky Mountains, Missouri, wildlife, and flowers in a backyard or on the kitchen table. Inspirations like these encourage her to step back, take a deep breath and focus on the beauty seen through the camera to share with you.
Sander graduated with a BA, BFA from Stephens College in art education and printmaking. Then, she received a Masterís in Art from Southeast Missouri University. Sander taught 28 years in the Jackson R-2 School District. She taught grades 3, 4, middle school art and was a READ Facilitator during her career as a teacher. In the last year, Sander has exhibited at the Cape Girardeau County History Center and the Kirkwood, Missouri Performing Arts Center. Now, she is participating in a photographic mentorship with the Olympus Educator, Matt Suess.
What makes Sander different from her contemporaries is her unique presentation of photographs on metal and the perspective of everyday landscapes or wildlife. Always offering a personal heartfelt gratitude for HIS glorious creation, she showcases Godís unexpected and perfect moments.
ďCome and see what God has doneÖĒ Psalm 66:5.
Past Dates & Times
Wednesday, January 5, 2022, 10:00 am - 4:00 pm
Thursday, January 6, 2022, 10:00 am - 4:00 pm
Friday, January 7, 2022, 10:00 am - 4:00 pm
Saturday, January 8, 2022, 10:00 am - 4:00 pm
Sunday, January 9, 2022, 10:00 am - 4:00 pm
Monday, January 10, 2022, 10:00 am - 4:00 pm
Tuesday, January 11, 2022, 10:00 am - 4:00 pm
Wednesday, January 12, 2022, 10:00 am - 4:00 pm
Thursday, January 13, 2022, 10:00 am - 4:00 pm
Friday, January 14, 2022, 10:00 am - 4:00 pm
Saturday, January 15, 2022, 10:00 am - 4:00 pm
Sunday, January 16, 2022, 10:00 am - 4:00 pm
Monday, January 17, 2022, 10:00 am - 4:00 pm
Tuesday, January 18, 2022, 10:00 am - 4:00 pm
Wednesday, January 19, 2022, 10:00 am - 4:00 pm
Thursday, January 20, 2022, 10:00 am - 4:00 pm
Friday, January 21, 2022, 10:00 am - 4:00 pm
Saturday, January 22, 2022, 10:00 am - 4:00 pm
Sunday, January 23, 2022, 10:00 am - 4:00 pm
Monday, January 24, 2022, 10:00 am - 4:00 pm
Tuesday, January 25, 2022, 10:00 am - 4:00 pm
Wednesday, January 26, 2022, 10:00 am - 4:00 pm
Thursday, January 27, 2022, 10:00 am - 4:00 pm
Friday, January 28, 2022, 10:00 am - 4:00 pm
Saturday, January 29, 2022, 10:00 am - 4:00 pm

Map
Sikeston Depot Museum & Cultural Center
PO Box 182, 116 W. Malone Ave., Sikeston, MO